There are several things that must be considered when choosing what material to use for your patio, walkway, or driveway. One, of course, is the budget. Determine how much you can afford. You will need to look at the area where you place the materials to determine just how much material you will need. Bear in mind that materials alone can cost you anywhere from $5-$35 per square foot.
Other things to factor in include the durability of materials. Think of foot traffic, natural wear and tear, etc. You don't want to go for the cheaper option only to have them crack after a short time. Of course, you need to see how your patio, walkway, or driveway will look when blended into the present landscape. You want something that shows your style but will also look right with whatever is already in place.
These are some of the materials that we at Countywide Landscape use for the patios and walkways we construct in West Chester, Pennsylvania and the surrounding areas.
---
1. Concrete Pavers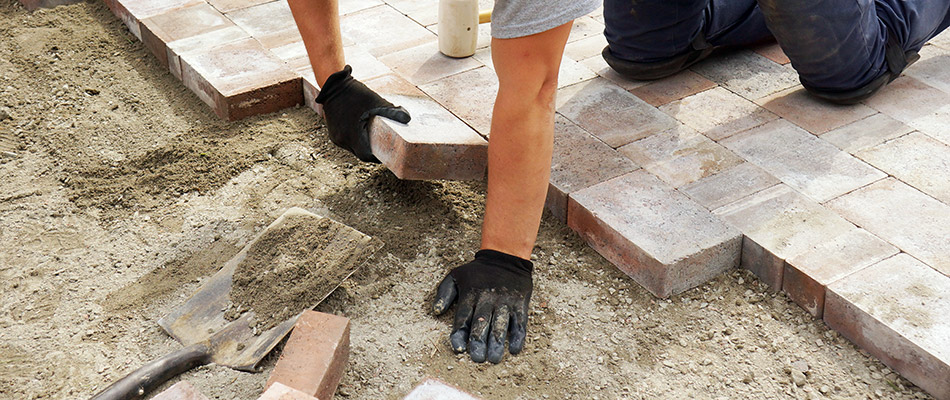 Concrete pavers are one of the most popular materials used in patios, driveways, and walkways. These blocks are constructed so that they can interlock, which can actually make installation easier because there is no need for mortar or grout.
They also perfect for those who are aiming for a lower budget, as the cost is mid to low range. But that does not mean that it would look cheap. There might have been a time when concrete pavers were shunned for their basic design, but that is no longer the case.
There are now a variety of designs and colors to choose from. Homeowners can create their own unique patterns to show off their style. Even contemporary landscape architecture makes use of concrete pavers to show off elegant and one-of-a-kind textures.
Despite being low to mid-cost, concrete pavers are very durable.
---
2. Pennsylvania Bluestone
Here is a material that hails from our very own state. The Pennsylvania bluestone is found in the northeastern part of the state, more specifically in Susquehanna County, and derives its name from its blue color. But worry not because it can also come in other shades such as light purple, green, and brown, so it can easily blend into your existing landscape.
The Pennsylvania bluestone has a smooth texture and is used by many not just for patios, walkways, and driveways but for architectural details like countertops and even lamps. While slightly more expensive than concrete pavers, you can be assured that they will last for a long time. They also do not require a lot of maintenance. There is no need for sealing and Pennsylvania bluestones can be cleaned with just a brush or a power washer if you want a more extensive cleaning.
---
3. Travertine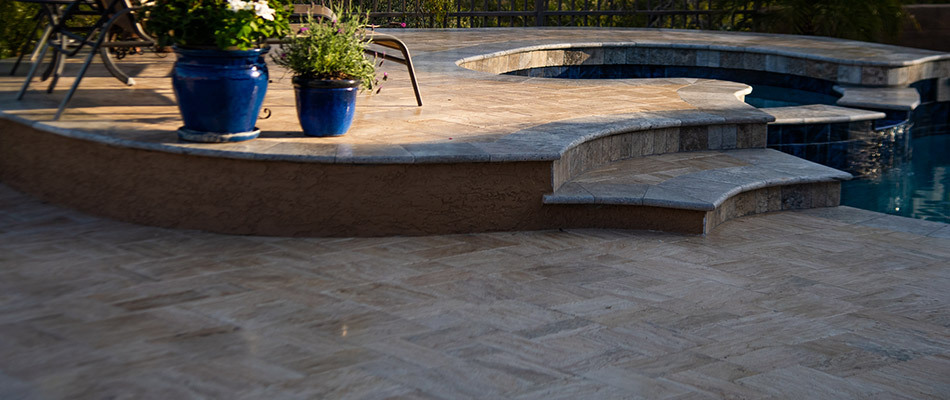 Travertine is another type of natural stone that does not require a lot of maintenance. Like the Pennsylvania bluestone, it does not require any sealing. Its natural finish makes it a perfect choice for homeowners who want something minimal in their patios, walkways, and driveways. While there is little that can crack this material, bear in mind that they are porous, so sealing will be needed to prevent any liquid absorption.
Good news for those who do not enjoy walking on hot tiles on a summer day - this material stays cool under the sun, yes, even under direct sunlight! This is why it is perfect for patios, walkways, and driveways. Expect the cost for using travertine to be in the mid-range.
---
4. Stamped or Stained Concrete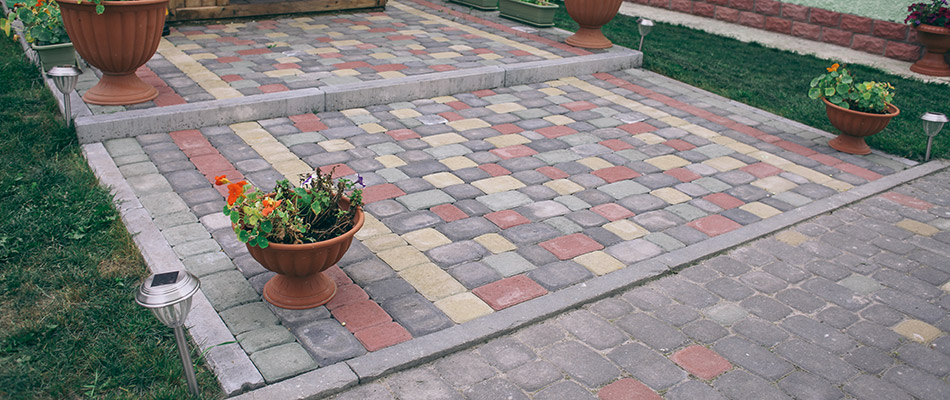 If you opt for stamped or stained concrete, you'll be able to add a touch of elegance and beauty to your patio or walkway without having to spend too much money.
If you choose stamped concrete, you'll have a whole array of designs at your disposal. It can even give you something that would be similar in looks to pavers or natural stone. Stained concrete, on the other hand, is for those who prefer a glossy finish.
As for maintenance, they are very easy to clean; you will only need some soap water. But homeowners must also take into consideration that concrete will crack as time goes by. Sealing them will ensure that they will last longer.
---
Ready to beautify your patio, walkway, or driveway? Call (610) 285-9727 today!
Here at Countywide Landscape, we can create a unique patio, walkway, or driveway for you, making use of any of the top four materials mentioned above. You can fill up our online form or call us at (610) 285-9727 for a quote or if you would like more information regarding the project you had in mind. Our crew can easily render a 2D or 3D design so that you can see just how your whole landscape will look when everything is incorporated.
We cater to homeowners in West Chester, Downingtown, Exton, Pennsylvania and some surrounding areas. Call us if you want a company that prizes high-quality materials and craftsmanship.