Comprehensive Lawn Services for Properties in the Downingtown, PA Area
Offering reliable lawn care services to the Downingtown area since 2006.
Downingtown, Pennsylvania is a borough west of the better-known city of Philadelphia. It is home to over 3,000 households and many stunning parks full of calming nature sights and babbling water features. Our team at Countywide Landscape has been serving the lawns and landscapes of Downingtown since 2006 with no plans of stopping!
We offer a comprehensive list of lawn services; From design and build projects for your outdoor living area to lawn care and maintenance, we can do it all. Below is a list of our services. Call us today at (610) 285-9727 to talk to one of our experts and find out how we can help you bring your lawn in Downingtown to the next level.
---
Improve your property with our landscaping and hardscaping design and build services.
Plantings & Softscapes: New landscape beds and bright flowers can transform your property in the best way. We can do both new installs and renovations to help design and build the best-looking lawn on the block.
Patios, Walkways, & Driveways: Our crew can build your new patio, walkway, and driveway out of concrete pavers, stamped concrete, stained concrete, or natural stone.
Retaining & Seating Walls: Retaining and seating walls are both functional and decorative landscape additions. A retaining wall will help prevent soil erosion in hilly areas while also adding a great statement piece to your landscape. Seating walls are typically placed around fire pits and outdoor kitchens, giving your guests a built-in place to sit.
Fire Pits & Fireplaces: Enjoy the fresh air for longer - even in the chilly Pennsylvania weather! Fire pits and fireplaces are a great way to cozy up and enjoy the outdoors for as long as you can.
Outdoor Kitchens: With only a few summer months of perfect weather, why spend it inside cooking? Equip your outdoor kitchen with a pizza oven, bar area, and outdoor lighting for the ultimate cooking experience.
Outdoor Lighting: Illuminate your landscape with our outdoor lighting installation services. We use low-voltage LED bulbs for a low-maintenance, energy-saving option.
---
Our lawn care services will ensure your lawn receives the proper nutrients while keeping weeds, insects, and disease under control.
Fertilization & Weed Control: Provide your lawn with nutrients and protect it from weeds with our fertilization and weed control program. Our crew makes 5 visits to your property, starting in early spring throughout late fall.
Aeration: Based on the cool-season grass located in the Downingtown area, we suggest aerating your lawn in the fall. Core aeration will open up your lawn and give your lawn's root system better access to water, sunlight, and essential nutrients.
Overseeding: Our overseeding service includes spreading grass seeds throughout your already existing lawn to help grow in the patchy areas and fill them with lush grass. Our overseeding service also includes a free starter fertilization treatment.
Lawn Disease & Insects: If you notice lawn damage in your yard, it is possible that it is due to a disease or insect infestation. Let us take care of your lawn and nurse it back to health with our lawn disease and insect services.
Landscape Bed Weed Control: We use a potent glysophate solution to tackle the weeds that are finding their way into your landscape beds.
Mosquito Control: Mosquitos are not only a pain, but they can also be dangerous with the diseases that they carry. Sign up for our organic and EPA-registered program to keep your mosquito problem in check.
Flea & Tick Protection: Your vet protects your furry family members from fleas and ticks while we protect your human family members! We use a backpack fogger full of organic products to drive away fleas and ticks from your property.
Tree & Shrub Care: Just like your grass and small plants, your trees and shrubs need year-round protection, too! We offer fertilization and disease & insect protection services.
---
Keep your lawn clean and pristine with our lawn maintenance services.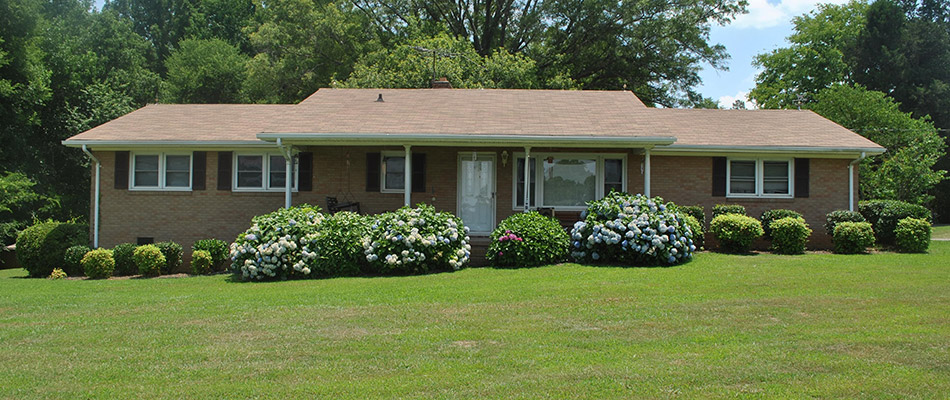 Yard Cleanups: We offer comprehensive yard cleanup services in the spring and fall to get your property to its most pristine condition for the upcoming season.
Leaf Removal: We use vacuum trucks to rid your lawn of messy leaves. Our crew will return 2-3 times from October to the end of December to ensure that we collect as many leaves as possible before the snow begins to fall.
Mulch & Rocks: Protecting your landscape beds with mulch or rock is essential for maintaining the health of your plants. We mulch a few hundred yards per week and use a lot of river rocks for our clients that prefer rocks instead.
Plant Trimming & Pruning: Keep your lawn looking its best with our trimming and pruning services. Our crew can trim plants and shrubs that are up to 12 feet tall.
---
Don't see what you need? Take a look at our additional services.
Commercial Snow Removal & Deicing: Keep your business free of any snow or slippery ice with our commercial snow removal and deicing services. We offer zero-tolerance contracts, meaning our crew will show up to clear your property at the slightest sign of snowfall.
Drainage: If there happens to be a lot of standing water after a big rainfall, call us. We can grade your property or install dry creek beds, french drains, or storm basins to help direct water where it needs to go.
New Lawns: No matter the reason that your lawn is completely empty of grass, we can help you grow a new lawn. We offer both sod and grass seed solutions.
---
Call us today to schedule one or more of the above services!
Join your Downingtown neighbors and sign up for our lawn services today! With our comprehensive list, there is surely something that we can do for you to bring your landscape to the next level. We service the Downingtown area as well as surrounding locations like West Chester, Exton, and Chester Springs. Speak with one of our experts about the needs of your lawn by calling (610) 285-9727.