Drainage & Storm Water Management for Homes & Businesses in West Chester, Downingtown, and surrounding areas in Southeast Pennsylvania.
Keep your property clear of damaging drainage and flooding issues that can cost you time, money, and a ruined lawn and landscape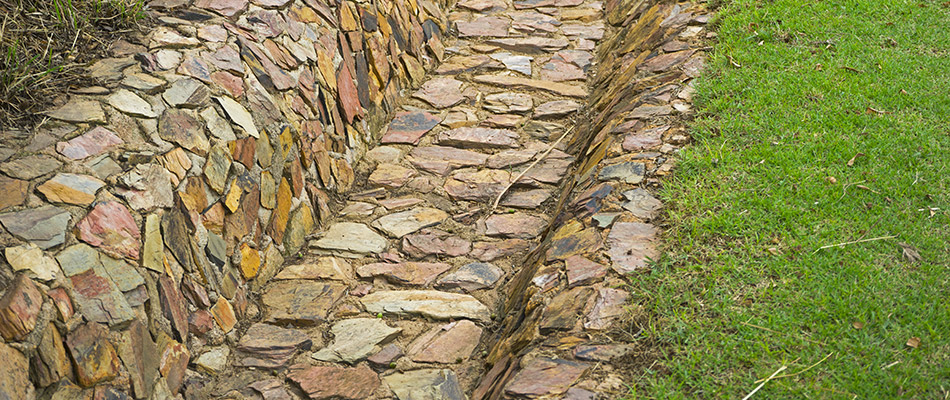 Standing water can ruin your lawn and landscape if your property struggles with water drainage issues. Along with moss and mold growth, excessive pools of water can increase the likelihood of mosquitoes and soil erosion.
If you've surveyed your property after a big rainstorm and noticed a lot of standing water, installing a drainage system is the best solution for improving water retention! Our drainage and storm water management services can help redirect water away from your residential or commercial property in West Chester, Downingtown, Exton, PA, or in the surrounding areas.
---
What kind of problems can standing water cause for your property and landscape?
Seeing a ton of standing water on your property is never a good thing. It can cause significant damage to your lawn and landscape as well as the foundation of your property. Here are just some of the problems that poor drainage issues can create:
Brown or dead lawn - If your lawn becomes completely submerged after a heavy rainstorm, this is a big sign of draining problems. Not only is this not healthy for your grass, but it can eventually lead to mold growth and other serious lawn diseases.
Increased presence of mosquitos - Standing water is a breeding ground for mosquitoes. Besides just being a bothersome insect, mosquitoes are known to carry dangerous viruses like West Nile and Zika.
Excessive soil erosion - Water runoff is the biggest cause of soil erosion. Displaced soil can expose plant roots, create more muddy areas around your property, and can even cause mudslides to form on properties that are built on a slope or incline.
---
We offer several different drainage and storm water management solutions for properties in Pennsylvania!
We understand the importance of rectifying pooling water and drainage issues on your property, which is why we offer a variety of solutions to fix this problem!
Our talented landscaping team can install any one of the following drainage and grading systems to help with storm water management:
Dry Creek Beds - A dry creek bed brings aesthetic appeal while also functioning as an effective drainage system. After a winding trench is dug out, the area is filled with dirt and river rocks of various shapes and sizes. The water then flows down the creek bed and out of your yard, just like a real creek you'd find in nature!
French Drains - Much like a dry creek bed, this system causes water to drain through a gravel-filled trench into a perforated pipe installed at the bottom of the trench. Once the water travels through the pipe, it empties out in another area far away from your property.
Storm Basins - These are also known as catch basins and are a common drainage system used by many residential and commercial properties. These systems work by first installing a box with a grate on top at a low point on the property. Then, a drainage pipe is connected to the basin to help redirect the water away from your landscape. As the water flows through the grate and through the drainpipe, the basin will catch any foreign material and debris so the system doesn't clog.
Is your property experiencing flooding problems after a recent rainstorm? Our team can install one of our drainage solutions at any time to help with storm water management!
---
Are your lawn and landscape practically underwater after a storm? Contact us today to see which of our drainage systems works best for your property!
Don't let your lawn and landscape be ruined by standing water. Let our team install one of our drainage systems on your property in West Chester, Downingtown, or Exton as a way to manage and redirect storm water. Contact us today at (610) 285-9727 to receive a quote!