Overseeding for Properties in & Around West Chester, Downingtown, & Exton, PA
We can rejuvenate your lawn with our overseeding service to give your property lush, green grass!
A great way to get the most potential from your lawn is to schedule our overseeding service each year. The purpose of this service is to rejuvenate your dull, patchy lawn by filling it with lush, green grass. Overseeding can even be beneficial for healthy lawns because it will help foster the development of healthy grass even further!
Our overseeding process includes evenly distributing our premium fescue blend throughout your existing lawn. We offer this service in the spring and fall and recommend that you sign up at least once per year for maximum results. Overseeding is great by itself, but you can schedule our core aeration service in the fall as well, to reduce issues like soil compaction and thatch buildup in your yard. We offer our services to property owners in West Chester, Downingtown, Exton, and surrounding areas in Pennsylvania.
---
Our Overseeding Process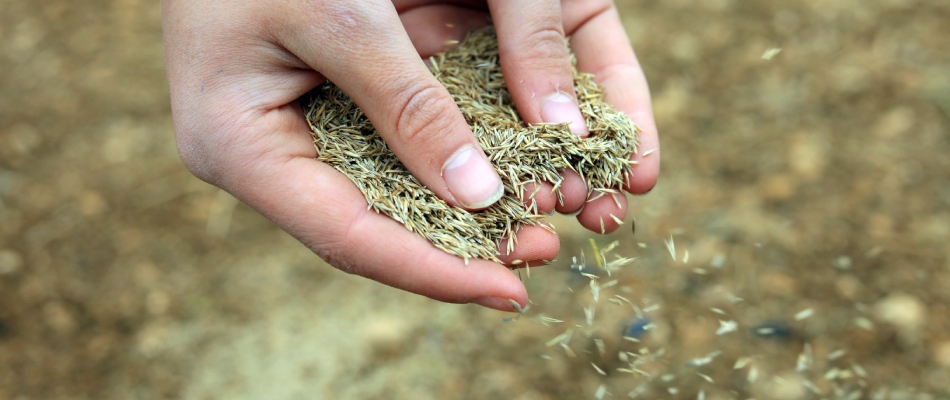 Sometimes your grass may need a pick-me-up to add some color or to fill in areas that aren't as full as they used to be. For these reasons, overseeding is second-to-none when it comes to helping you achieve a lush green lawn. Our overseeding process involves spreading an evenly distributed layer of grass seeds throughout your existing lawn. When you schedule this service, you can rest easy knowing that our team will help your grass evolve from dull and patchy to thick and full!
With every overseeding job, we include a starter fertilization treatment at no additional cost to you!
---
We use a premium fescue grass seed blend for overseeding.
For overseeding projects, we use a blend of premium fescue grass seeds. One of the many reasons our company uses fescue is because it is perfect for Pennsylvania's weather conditions. It grows well in the cold and is tolerable of heat. It also tends to be drought resistant. Another feature of fescue is that it germinates quickly compared to other grass seed types, so you will begin noticing the difference in your lawn sooner rather than later.
---
When do we offer our overseeding service?
The nature of overseeding is that it requires the right time of year in order for the seeds to germinate effectively. We offer this service twice each year in late spring and in early fall. During these seasons, the weather is most favorable and your soil is not frozen or too hot, so the grass seeds can take root more easily. We recommend that you schedule our overseeding service yearly to help your lawn consistently develop fresh, green grass.
---
Core aeration can help improve your lawn even more!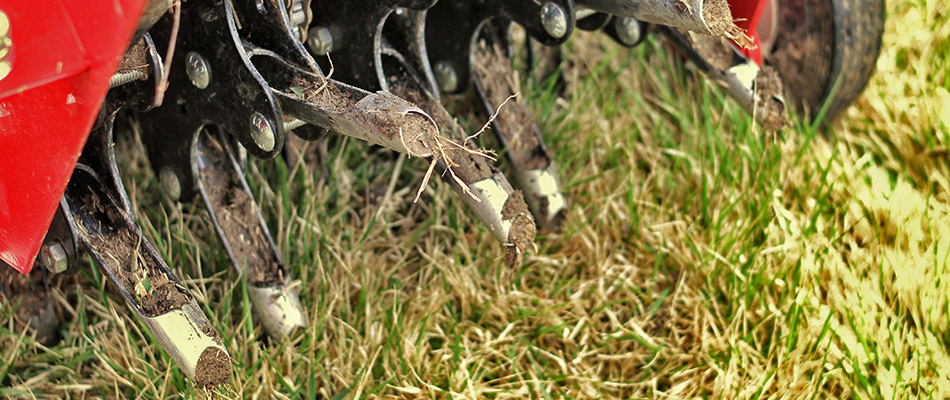 Overseeding is a great service to include in your lawn care routine, but sometimes, it isn't enough by itself. In instances where your lawn is full of thatch and soil compaction, aeration can help reduce the compaction and thatch buildup so that airflow and other nutrients can circulate throughout your turf a lot better. Scheduling core aeration in the fall will help make the process of grass seed germination even more optimal.
---
Schedule our overseeding service today for a beautiful and lush lawn!
At Countywide Landscape, we offer an overseeding service to turn your patchy, dull lawn into lush and beautiful grass! With our premium fescue grass seed blend, you can't go wrong, and you'll soon have the sort of lawn you can be proud of. We offer our services in West Chester, Downingtown, Exton, and nearby areas in Pennsylvania. Call us today at (610) 285-9727 to schedule.