We Offer New Lawn Seeding in West Chester, Downingtown, Exton, PA & Surrounding Areas
Our experienced team can help you grow a lawn from scratch with our new lawn seeding service.
Our experienced team can help you grow a beautiful new lawn from scratch with our new lawn seeding service. We follow a thorough process when performing this service to ensure you end up with a lawn that is filled with thick, lush grass. This service is available in the spring and fall when the weather is most optimal for seeding in Pennsylvania. After we've seeded your lawn, we will ensure that you know how to care for your seedlings the right way to achieve optimal results in the end. Our service is available in West Chester, Downingtown, Exton, PA, and nearby areas.
---
Our New Lawn Seeding Process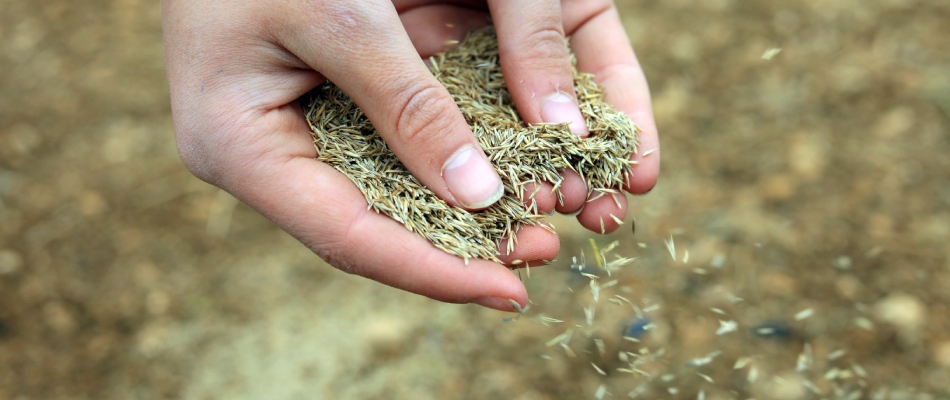 New lawn seeding requires experience if you want healthy grass rather than a patchwork job for a yard. At Countywide Landscape, we're committed to helping you achieve the finest lawn possible with our thorough new lawn seeding process. When you partner with us for the job, we will:
Clear your yard - Our team will begin by first clearing your yard of any remaining grass, weeds, rocks, and debris. This will ensure that your grass seeds are spread on a clean foundation.
Loosen up the soil - Next, we will loosen up your soil so that compaction doesn't hinder your grass seeds from having good contact with the soil.
Spread the grass seeds - Once your soil is ready, our team will begin spreading our grass seeds throughout your yard. We'll make sure to cover your soil evenly so that the grass emerges consistently throughout your lawn.
Rake and roll the seeds - The end of our lawn seeding process includes gently raking the seeds or using our lawn roller to go over them so that there is optimal seed-to-soil contact.
---
When do we offer our new lawn seeding service?
We offer our new lawn seeding service in the spring and fall because these times of year offer the best growing conditions for the grass seeds that we use. In the fall especially, your soil is often moist and temperate enough to help the grass seeds germinate without having to fight heat and drought conditions for survival.
---
How to Care for Your New Lawn
After the seeding process is complete, you're well on your way to a new and lush lawn! The quality of your future grass all depends on the way you care for your grass seeds while they grow. We recommend that you maintain your lawn in the following ways:
1. Hydrate your grass - Your grass seeds will require a lot of water in the beginning for them to germinate. It's important that you hydrate your soil 2-3 times each day so that the seeds do not dry out. Your aim should be to keep the soil damp to the touch but not soggy. Once you begin noticing tiny grass blades, you can reduce your watering to 2-3 times per week.
2. Stay off the grass - Grass seeds are fragile while their roots are still developing. For this reason, you should make it a priority to stay off your lawn until the seeds have fully established.
3. Wait to mow your grass - You should wait until your grass blades have grown at least 4 inches tall before you break out the lawnmower for the first time.
With our lawn seeding service, you should have a full lawn in about 6 months!
---
Call us today to schedule our new lawn seeding service!
At Countywide Landscape, we offer a new lawn seeding service that will give you a beautiful new lawn that you can be proud of. We offer this service to commercial, residential, and HOA property owners in West Chester, Downingtown, Exton, PA, and in nearby areas. Give us a call today at (610) 285-9727 to schedule.