Professional retaining wall installation for residential and commercial properties in the Greater West Chester, PA area.
Get a hardscape that's durable and versatile by installing a retaining wall on your property!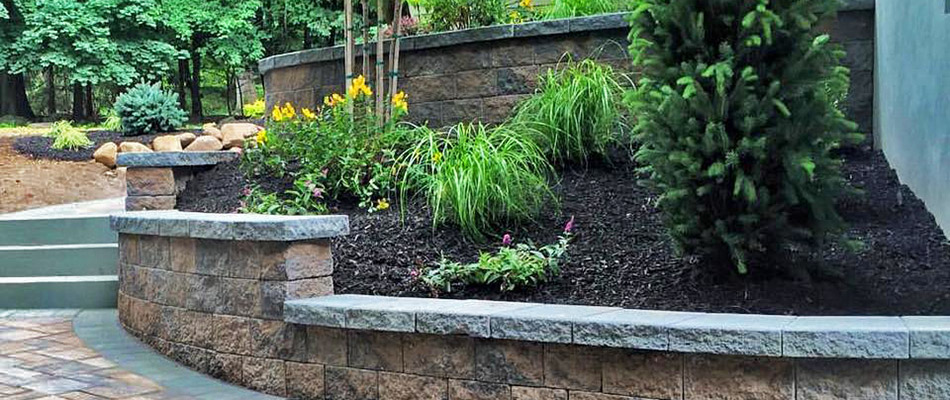 Retaining walls are one of the few hardscapes that have multiple functions for homes and businesses. We can construct your retaining wall to be decorative, functional, or both!
We carry all the right tools and materials needed to build you a sturdy retaining wall that will last you many years with little to no maintenance required. Our services are available for all residential and commercial properties located in the West Chester, PA area, and surrounding towns in Downingtown, Exton, Chester Springs, and more.
---
What purposes do retaining walls serve your property in West Chester, Pennsylvania?
The reason why retaining walls are such a popular hardscape feature is their dual functionality. A fire pit or outdoor kitchen is useful for a singular purpose, whereas a retaining wall can serve as both a landscape wall and a raised garden bed.
If your property struggles with soil erosion, you'll want to consider a retaining wall installation as a viable solution. These walls help manage flooding issues by acting as a barrier that prevents soil erosion. By leveling off the area, you'll save yourself time and money because you won't have to continue to add more soil to your landscape as it constantly erodes away.
Decorative retaining walls also have a place in your landscape design. These make great raised garden beds and will really stand out in your front or backyard. The granular patterns on the stones add a beautiful textural element and you can create some great designs using natural stones for an even more unique flair.
We also design and install seating walls, which are often shorter than an average retaining wall since they are mostly built around fire pits or outdoor kitchens as an extra seating area. They're becoming more and more popular with outdoor living because they provide a permanent solution to patio seating while still blending in naturally with the surrounding landscape.
We have experience designing both staggered and step-style planter beds!
---
Which building materials are used to install your retaining wall?
We build your retaining walls using the highest quality materials so you don't have to worry about your hardscape being overly stained or chipped. Our crew loves working with:
High-performing concrete mix
Natural stone
Masonry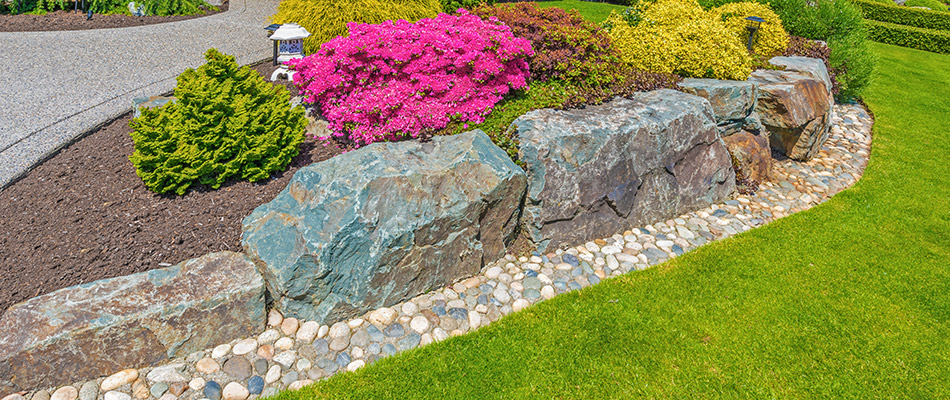 ---
Which properties may need a retaining wall?
There's no limit to the kinds of properties that can benefit from having a retaining wall installed on their landscape. However, there are certain circumstances for some property owners where these hardscapes are of an absolute necessity to ensure their home or business is safe.
These kinds of properties are usually built:
On a downward mountainous slope
In areas with consistent flooding form uneven terrain
Near a hilly area where their foundation is threatened by soil erosion
---
Choose a company that has constructed hundreds of retaining walls for over 18 years!
Are you looking to add a retaining wall to your yard for a drainage solution and/or aesthetic appeal? Did you know we have a fully-staffed team of experienced and dedicated installers that surpass other contractors in the Greater West Chester area?
Our retaining wall solutions offer durability and versatility so your project is done to your specifications and there is no headache later. Give us a call at (610) 285-9727 to get started with the installation process today!