Custom LED Outdoor Lighting in West Chester, Downingtown, Exton & Nearby Cities in PA
We design outdoor lighting systems intended to elevate and illuminate your property's nighttime aesthetic.
Most of the work we do in the landscaping business elevates your property's aesthetic during the daytime. However, you can also make a dramatic difference to the way your home looks in the evening with a custom outdoor lighting system. Our team transforms your home's exterior into a work of art by using premium low-voltage LED lighting. Through various techniques, such as uplighting, downlighting, and path lighting, we can create dramatic effects that enhance your home's curb appeal as well as keep you and your family safe while navigating your property at night.
At Countywide Landscape, we offer outdoor lighting design and installation throughout the West Chester, Downingtown, and Exton, PA areas. You will work closely with our team to design lighting that illuminates your softscapes and hardscapes effortlessly.
---
Why do we choose to use low-voltage LED lighting for our installations?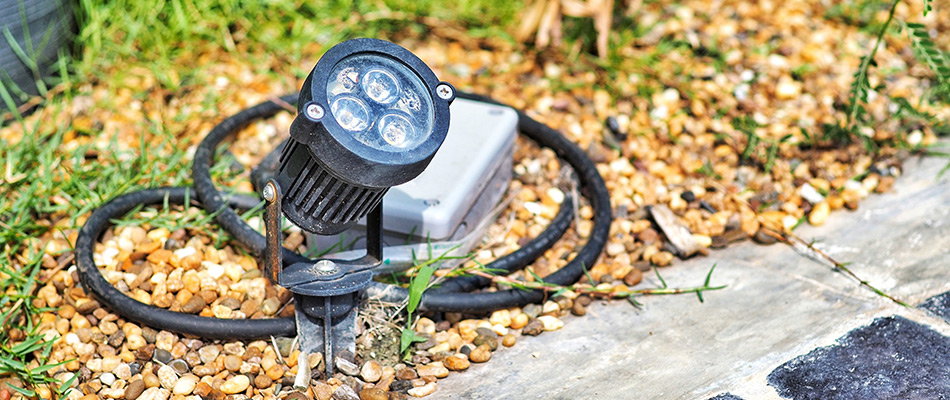 An innovative lighting system is only as good as the materials used to create it. LED bulbs have become the staple for outdoor lighting systems. So, why do we choose this particular lighting for our installations? Throughout our years of experience, we have found that LED bulbs are the best out there. You'll find your property enhanced while enjoying the vast benefits of low-voltage LED lighting, including:
Energy efficient
Cost-saving
Minimal heat output
Safer to install and use
Environmentally friendly
Longevity
---
Can installing outdoor lighting throughout your property make it safer?
A well-lit home is a safe home. Not only does outdoor lighting bring beauty and elegance to your property, but it also helps enhance security. Our lighting systems can be set to timers and motion detectors, deterring anyone from coming onto your property uninvited. We work with our clients to make sure that dark and high-traffic areas are well lit, giving you both peace of mind and additional safety measures for navigating your property at night.
---
What types of techniques are used in outdoor lighting?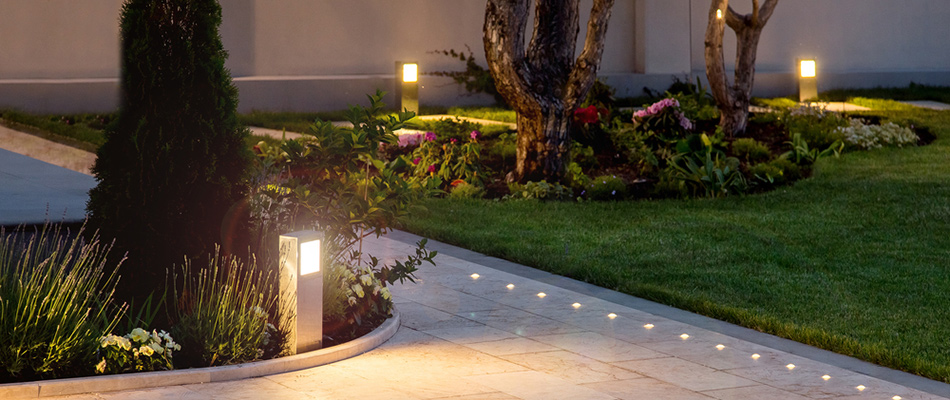 One of the most important aspects of outdoor lighting is the techniques used. Various techniques will achieve entirely different results. Knowing what areas of your home or landscape you want to feature is essential; this will help us design your outdoor lighting with the best techniques that will highlight those particular areas in the best way.
At Countywide Landscape, we use a multitude of techniques to achieve your final exterior lighting result. During your design process, we will go over available techniques and use our expertise to suggest options suited to your landscape. Here are just a few of the lighting installations we provide:
Moonlighting - This is a subtle technique that creates natural patterns of moonlight on your landscaping. We accomplish this using cooler-toned LED lighting that replicates the light from the moon.
Downlighting - This technique sheds light on a particular object or space from above. Downlighting can be used to both highlight features on your property and enhance safety.
Wall Washing - This is used to illuminate an entire surface evenly. Typically, wall washing enhances the beauty of the face of the home or building when used at regular intervals.
Uplighting - When shining light from below, uplighting creates dramatic effects and accents focal points throughout your landscaping.
Path Lighting - Path lighting is used as a safety feature to illuminate walkways. Similar lighting can enhance landscaping beds as well.
Our company has been designing and installing outdoor lighting for properties in the West Chester area since 2006.
---
Are you looking for unique outdoor lighting that brings your property to life at night? Call today!
Our attention to detail and design outshines the competition! Utilizing premium quality lighting, we create custom designs that both showcase your property and enhance its safety. Our exterior lighting design and installation services extend throughout the West Chester, PA area, including the communities of Downingtown and Exton.
You can get started on your outdoor lighting project by filling out an online form or calling us at (610) 285-9727. We would be happy to schedule a consultation and get you a quote for your outdoor lighting.