Offering Comprehensive Lawn and Landscape Services to Properties in Exton, PA Since 2006
Landscape design & build, yard cleanups, and fertilization are just a handful of the services we offer to the Exton area.
With a little over 2,000 households, Exton, Pennsylvania is a small census-designated area west of Philadelphia. Although it is known as the major shopping district of the area, Exton is full of parks that offer beautiful nature scenes and hiking trails. Our company has had the pleasure of serving this community and keeping the lawns and landscapes throughout Exton healthy and green.
We offer a wide variety of services including hardscape and softscape design and build, yard cleanups, fertilization, weed control, and so much more. See something you like below? Call our office today at (610) 285-9727 to speak with one of our team members about the needs of your yard.
---
We can design & build patios, retaining walls, fire pits, and much more.
Our experts have extensive experience in designing and installing new outdoor features such as patios, walkways, fire pits, outdoor kitchens, and more. Our design team collaborates with our clients to ensure that we are creating the perfect landscape. We can generate a 2D or a 3D design rendering to show our clients exactly what the end result will look like, allowing for any tweaks and adjustments to be made before our clients sign off on it. Then, our installation team gets to work! Below is a list of the different features that we can design and build for your property.
---
Our lawn care services will give you turf year-round protection.
Keeping your lawn up to date on lawn care services such as fertilization, weed control, and disease & insect protection is so important for the long-term health of your turf. Denying your lawn these services might result in having to do damage control to reverse brown grass, patchy spots, or even weakened root systems from a grub infestation. We offer programs and one-time services for the lawns throughout Exton. Check out our list of lawn care services below.
---
Is your lawn in need of some tidying? Our lawn maintenance services can help.
Did your trees just dump a bunch of leaves on your property? Does your landscape need a good spring clean-up after a long winter? Yards need seasonal yard cleanups to help them stay healthy and look immaculate. We want to make your lawn look better than ever, and make your Exton neighbors jealous! Our lawn maintenance services will do just that.
---
Keep yourself, your employees, and your customers safe with our commercial snow removal and deicing program.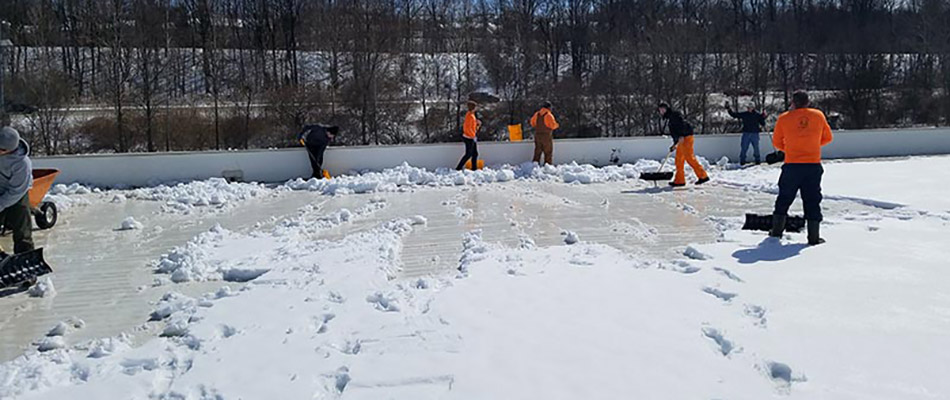 Keeping up with the snow in Exton, PA can be a pain. However, it is one of the most important things you should be focusing on as a business owner in the winter months. If your parking lots and walkways are full of snow and ice, you will turn away customers left and right. That is why signing up for our commercial snow removal and deicing program is so important. We know your plate is full and you are focused on running your business, so let us take snow removal and deicing off of your task list.
---
Don't wait to solve your drainage issues! Our team can help.
You know you have a drainage problem when you see a bunch of standing water after heavy rainfall. The last thing you want is for this standing water to lead to mosquitos, soil erosion, or even fungus. Call us immediately to create a personalized plan for your yard. We offer many different solutions to help guide water in the correct direction instead of pooling in your yard or endangering your home. Below are the options that we offer for your drainage solution.
Dry Creek Beds
French Drains
Storm Basins
Grading
---
Give your lawn the professional services it deserves! Call us today.
With 15 years of experience and 5-star ratings, you can be sure that our team is the right choice for your lawn. We not only service local lawns in the Exton, PA area, but also surrounding locations such as West Chester, Downingtown, and Chester Springs. If any of the above services caught your eye, give our team a call today at (610) 285-9727. Let us help you create the healthy, strong, and beautiful landscape of your dreams!