Local Lawn & Landscaping Services in Malvern, Pennsylvania
Our lawn and landscape experts provide total lawn care and landscaping services in and around the Malvern area.
Just 25 miles west of the popular city of Philadelphia, Malvern is a small borough in Chester County. Malvern's history begins in the 17th century when General Anthony Wayne used the area as a battleground in the great Revolutionary War. Originally a part of the northern area of Willstown Township, Malvern was considered its own borough in 1889. Full of neighborhoods, retail businesses, breweries, and historic sites, there's something for everyone to do in this small town. The top attractions to see when visiting Malvern include the People's Light Theatre, Historic Sugartown, and the historic Paoli Battlefield.
With a population of about 3,000, our company has helped hundreds of homes and businesses in Malvern maintain a healthy and green lawn with effective fertilization, weed control, and aeration. Other services like plantings, outdoor kitchens, and retaining wall installations have allowed residents to beautifully extend their outdoor living areas. We can't wait to bring your landscape vision to life too!
---
Comprehensive Lawn Care Services
We take care of your yard all year long with our 5-step fertilization program that also includes two pre-emergent weed control treatments. Our team uses a slow-release fertilizer that allows your grass to receive steady doses of nutrients instead of one large dose that will quickly wear off. A winterizer treatment is applied in late fall to ensure your grass remains nourished in the winter.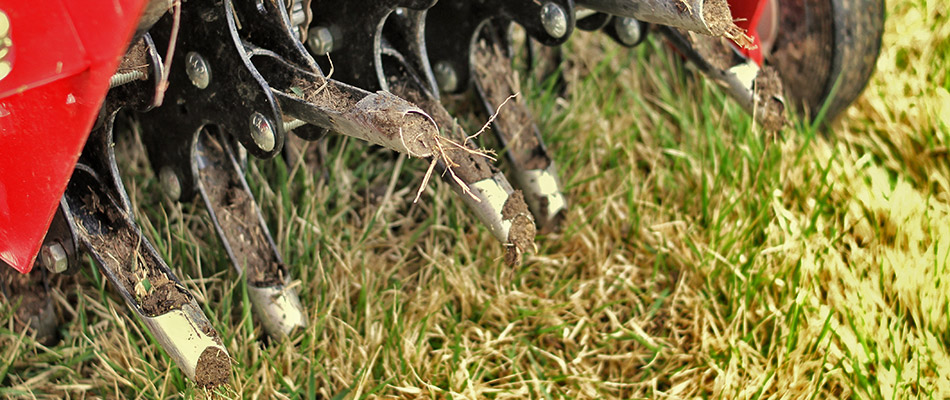 Heavy foot traffic from lawn mowing, pets, and people crossing your lawn causes your soil to become very compacted. Core aeration relieves this compaction and allows water, oxygen, and nutrients to better circulate through your soil and grassroots. Our aeration services are offered in early fall from August to October.
Enjoy your outdoor living areas without having to deal with pesky mosquitos invading and hovering on your property. Mosquitos can transmit dangerous diseases to humans including the West Nile Virus and Zika Virus. Our mosquito control consists of 5-7 treatments per season from April to October.
---
Landscape Services - Softscapes & Hardscapes
Plantings and softscapes are elements like flowers, shrubs, and hedges that bring natural beauty to your landscape. Some of our favorite plants to install include crepe myrtles, green giants, and hydrangeas.
Warmer weather calls for outdoor gatherings and events. An outdoor kitchen installation will allow you to be the ultimate host at parties with features like a built-in grill, dishwasher, wine cooler, and even a bar!
Create space for seating and safe passageways with a patio and walkway installation. You can have these essential landscape elements constructed from natural stone, concrete pavers, or decorative concrete.
Retaining walls can be built for decorative or functional purposes. A functional retaining wall helps control soil erosion from rainwater runoff while a decorative wall can be used to create a raised planter bed or provide extra seating.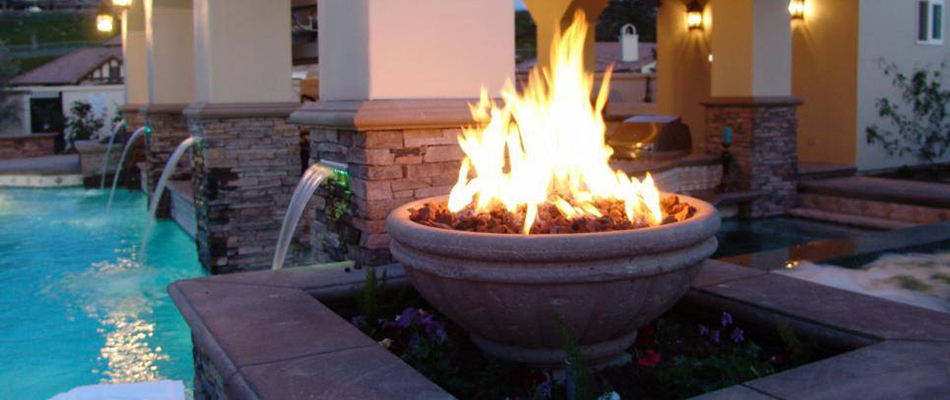 Pennsylvania has long winters and an outdoor fireplace or fire pit will allow you to comfortably and warmly enjoy cool nights. Your fire feature can be constructed from several sturdy materials such as custom stonework, concrete, and stacked stone.
We provide a variety of drainage and stormwater management solutions including dry creek beds, french drains, and stormwater basins. Drainage solutions help prevent lawn fungus, an increased mosquito presence, and excessive soil erosion.
---
Commercial Snow Removal Services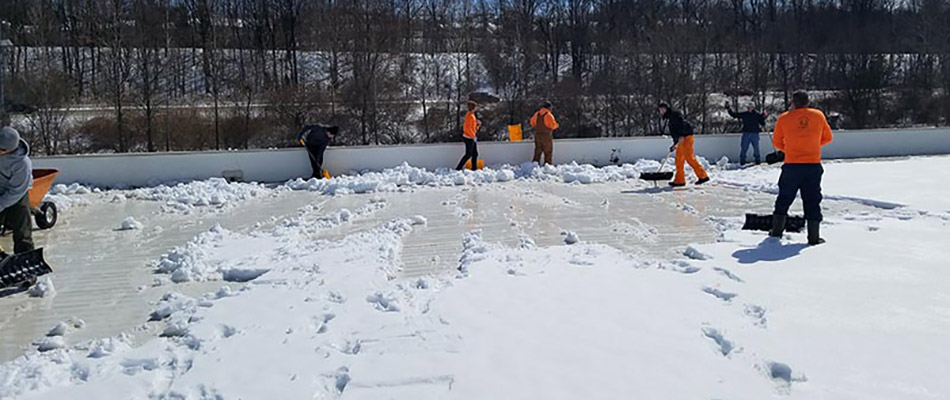 Be prepared for the winter season by enrolling in our commercial snow removal program. Our zero-tolerance policy means that we will remove snow from your business property as soon as it surfaces. We use skid loaders, trucks with plows, and wheel loaders to clear snow to create a safe environment for employees and patrons.
Slippery ice becomes a dangerous hazard when left on walking surfaces. Our team uses a salt truck to clear ice from streets near your property and a heavy mixture of bulk salt to clear your sidewalks and entryways. We can also apply ice pre-treatments!
---
Looking for comprehensive lawn care & landscaping? Give us a call today.
Give yourself a break and let us take care of your lawn care treatments and landscape projects. With nearly 20 years of experience in the landscaping industry, we know a thing or two about maintaining healthy grass and installing quality hardscape features. Reach out to our team at (610) 285-9727 to schedule a service for your home or business in Malvern, PA.