Luxury outdoor kitchens for properties in West Chester, Downingtown, Exton, & nearby cities in PA.
Custom outdoor kitchens provide you with a breath of fresh air from the routine, everyday cooking process!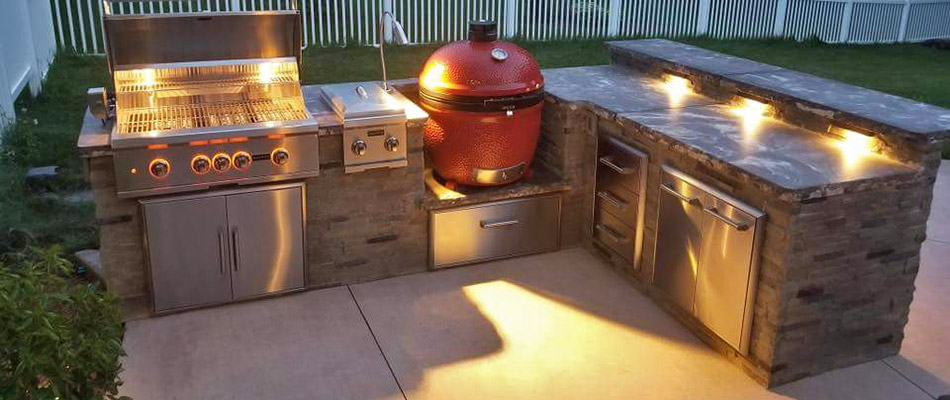 Our outdoor kitchen installations provide flexibility, quick turnover, little disruption to your yard, and unmatched skill. We offer an array of materials for your kitchen to be built with including natural stone and concrete blocks with stone veneers. With features like a pizza oven, bar area, and outdoor lighting, you'll be sure to enjoy your outdoor kitchen with friends and family for years to come!
We pride ourselves on having more than 18 years of experience with 100% customer satisfaction guaranteed. If you're ready to upgrade your outdoor living area with an outdoor kitchen, reach out to us to service your West Chester, Downingtown, or Exton, PA property.
---
Unlimited perks await you when you install an outdoor kitchen on your property!
Family dinners and gatherings just got way more entertaining! Move the party from inside to a more scenic area with the addition of an outdoor kitchen that includes fun features like a grill and bar. The best part about these outdoor features are the unlimited perks you get like:
Expanded entertainment space
Boost in overall property value
More versatile cooking options
---
Why are our outdoor kitchen installations superior to other companies?
We assure you our customer service never falls short for our clients. We'll walk you through the entire design and installation stages so that you're not only included in the whole process but so that you're sure your needs and expectations were met across the board. When you hire our company, you can be sure that you're getting:
Timely Installation
Top Quality appliances
Versatile Design
Numerous Feature Options
---
How do we design and build our luxury outdoor kitchens?
Before installation begins, we always include a free, on-site consultation. We also offer design renderings for most projects, including a 3D option using an innovative software program called Structured Studios. With these renderings, you will be able to see what the finished project will look like before our installation team even gets started!
Want a uniquely designed outdoor kitchen that standouts from other styles you've seen? That's not a problem for us! Take your pick of having either a straight line, U-shape, or island-style outdoor kitchen! All of our kitchens are built with a hollow panel system for maximum storage space. We also use self-attaching materials instead of a wood or steel frame to connect all the panels to ensure a seamless design. This reduces the risk of rust or rot.
You also have a variety of material options to choose from when designing your luxury outdoor kitchen. Our kitchens can be constructed using a pre-selected kit or customized from scratch using:
Concrete
Stack Stone
Natural Stone
Concrete with Stone Veneers
Concrete blocks masoned with stone veneers transform boring cement blocks into a more sophisticated design with texture and color.
---
Which features and appliances can be added to your outdoor kitchen design?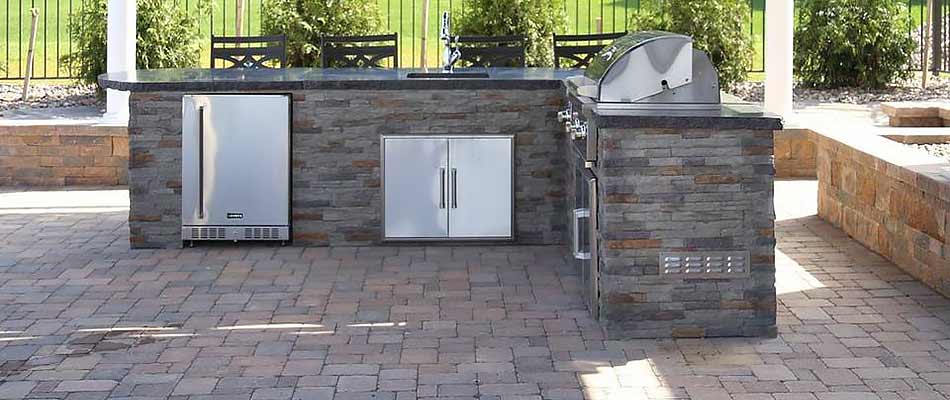 Cooking outdoors can be a fun and relaxing experience with the right equipment! Your kitchen, your rules!
Your cooking stations are designed to include the greatest stainless steel appliances for all your grilling and barbecuing needs! Our luxury outdoor kitchens can have any of the listed features added to the final layout:
Grill
Bar
Pizza oven
Dishwasher
Stove
Sink
Countertops
Extra storage
Ceiling fans
Outdoor lighting
When you hire our company for your outdoor kitchen install, you get the added benefit of being able to add more appliances over time should you want to expand upon your current layout!
Clients have the option of operating cooking appliances using either propane or natural gas!
---
Contact us to start fully enjoying your outdoor living area with a luxury outdoor kitchen!
An outdoor kitchen gives you all the bells and whistles of an indoor one with the added bonus of being surrounded by nature! We provide quick and easy installation services and we guarantee your new outdoor kitchen will give you a lifetime of great use and enjoyment.
Simply call us at (610) 285-9727 to receive a no-obligation estimate today! Our company constructs outdoor kitchens for residential and commercial properties located in West Chester and Downingtown, PA as well as nearby cities in Chester and Delaware.