We install driveways for properties in West Chester, Downingtown, Exton, PA and nearby cities.
Our team will construct a decorative driveway on your property using durable and stunning materials.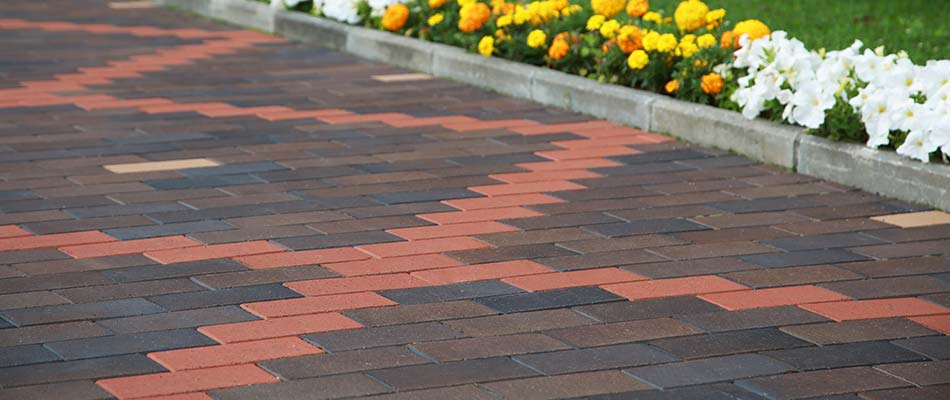 Adding a driveway increases the functionality of your property and improves your curb appeal. Driveways can also be connected to the pathway leading to your front door, further increasing mobility and safety for you and your family. We will construct a decorative driveway on your property with durable materials like concrete pavers or natural stone so it can hold weight well. These materials also offer a stunning finish to further enhance your curb appeal.
Our team can design and install driveways for properties in West Chester, Downingtown, Exton, PA and nearby cities. When you hire us, our professionals can help you create a design for your driveway custom-fit for your property's style.
---
We build custom driveways using long-lasting materials.
Driveways are expected to carry the immense weight of motor vehicles. That's why our designers and contractors make sure to use durable and long-lasting materials to help your driveway stand the test of time. Here are some of the materials our team uses to construct your driveway:
Concrete pavers - A popular material we use for driveways, concrete pavers can endure a lot of pressure because their mixture is compressed before allowing it to cure. Due to this, concrete pavers are highly durable and offer outstanding traction even when raining.
Natural stone - We install natural stone by laying each one individually, making your driveway less prone to cracking. Natural stone is available in varying colors and textures that can easily enhance your property's curb appeal.
Stamped and stained concrete - Whether you choose to have stamped or stained concrete for your driveway, we enjoy installing these because of their convenience. These materials are also easy to maintain, making them a favorite among homeowners.
Belgium block - Our crew installs Belgium block on the edges and at the end of your driveway to add sophisticated and classic beauty and make it stand out.
We use a high-performance concrete mix to ensure your driveway is long-lasting and can resist any extreme weather condition.
---
Our Team Designs Driveways That Match Your Landscape
Driveways play an important role in establishing the stature of your curb appeal. Aside from your home, it is one of the first things people notice on your property since this is where they will set foot first before entering your home. Because of this, our landscape design experts make sure we choose materials that match your property's style and overall appearance. We also consider important design principles, like color balance and harmony, to create a more cohesive look for your property when installing your driveway.
A custom decorative driveway made especially for your property increases the value of your home. This is why more and more homeowners are looking to install a custom driveway, as it can effortlessly complete the aesthetic appeal of any property.
---
Looking to add a driveway to your property in Pennsylvania? Call us today!
Adding a driveway to your property adds functionality and increases your home's value. Our skilled and experienced team at Countywide Landscape ensures that we put our best effort into every custom driveway we construct. Our company designs and installs stunning driveways at residential, commercial, and HOA properties in West Chester, Downingtown, Exton, and nearby Pennsylvania communities. Trust our team of experts to transform the look of your property. Call us today at (610) 285-9727 to get an estimate for our driveway installation services!