Lawn Care Services for Properties in West Chester, Downingtown, Exton, PA & Nearby Areas
We offer fertilization, weed control, core aeration, overseeding, and more.
The beauty and health of your lawn rely on whether or not it receives optimal care. At Countywide Landscape, we offer top-rated lawn care services that will keep your turf in excellent condition throughout the year. Our experts can provide your lawn with essential nutrients through our fertilization program and protect it from stubborn weeds with our weed control treatments. We can also perform core aeration to loosen up compacted soil, so seeds can germinate when we overseed your lawn. Furthermore, we offer outstanding landscape bed weed control, sod installation, new lawn seeding, hydroseeding, mosquito control, flea and tick control, and shrub and tree health services.
No matter what service you schedule, you can relax knowing our team puts unparalleled attention to detail into everything we do. We provide our lawn care services to properties in West Chester, Downingtown, Exton, PA and nearby communities. Call us today at (610) 285-9727 to schedule.
---
Fertilization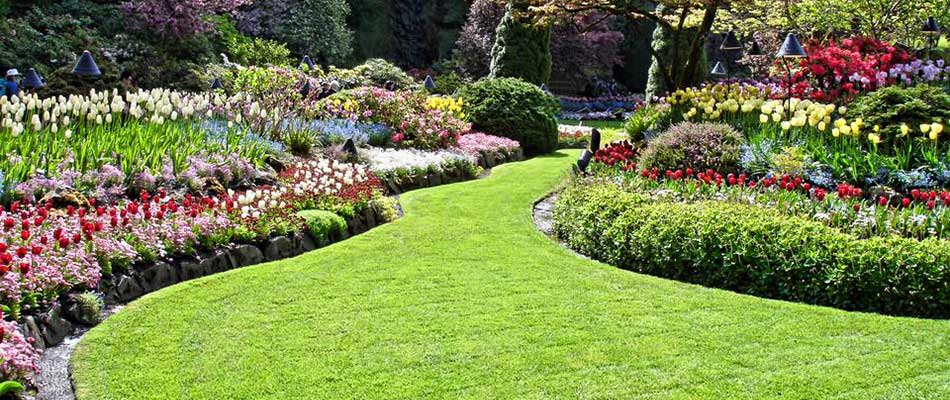 To keep your grass healthy and robust, it must receive essential nutrients. At Countywide Landscape, we offer a 5-visit fertilization program using a slow-release granular fertilizer that will supply your turf with much-needed nutrients. This type of fertilizer provides a slow yet consistent release of nutrients to your grass, reducing the need to apply the treatment often. Our program starts in early spring and ends in late fall, with each application spaced out properly for maximum absorption of the nutrients.
---
Weed Control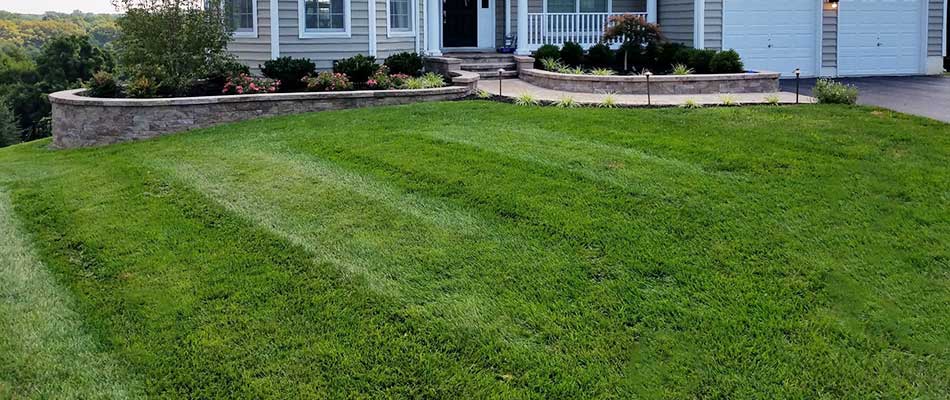 Weeds are stubborn plants that take away nutrients from your lawn. Ignoring their growth can be detrimental to the health of your grass and the appearance of your property. Our crew at Countywide Landscape offers weed control treatments that will effectively eliminate weeds from your property. We provide liquid pre-emergent herbicides to prevent weeds from emerging on your well-maintained lawn. Our pros can also target existing weeds with our post-emergent weed control treatments to stop them from competing with your grass for nutrients.
---
Core Aeration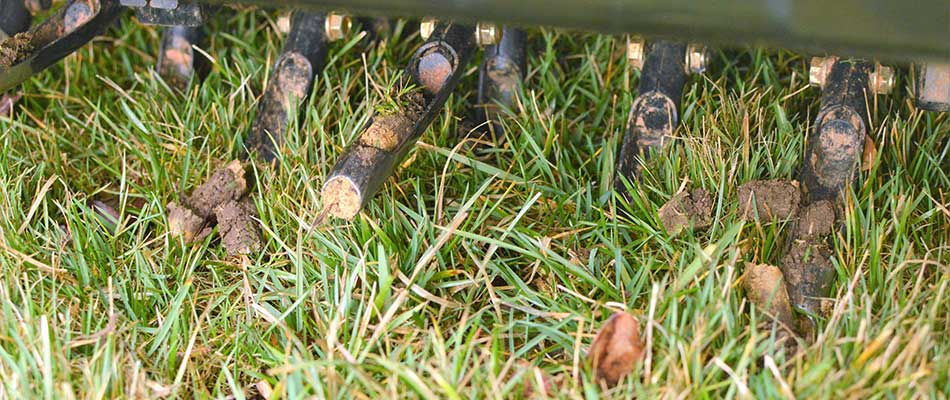 Over time, your soil may become compacted due to heavy foot and vehicle traffic and heavy precipitation. Soil compaction will not do your lawn any favors because it prevents nutrients, water, air, and sunlight from reaching the roots, eventually weakening your once healthy turf. We can resolve that with our core aeration service. We recommend scheduling this service in the fall when your cool-season grass is strongest to allow your lawn to heal after we perforate it with tiny holes using our mechanical core aerator machine. After we aerate your lawn, you can expect your lawn to experience:
Improved nutrient absorption
Enhanced water uptake
Reduced soil compaction
Deeper root development
---
Overseeding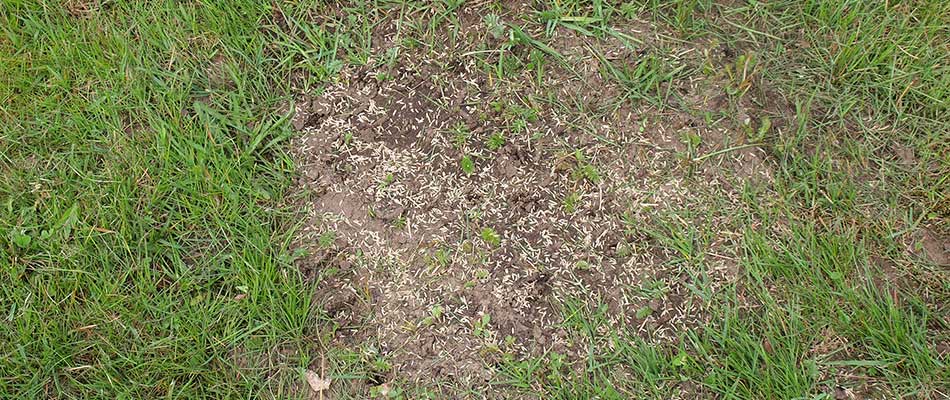 Nobody wants thin and patchy turf as it looks dull and weak. We can help solve that with our overseeding service! This process involves sowing new seeds on your existing turf to promote new, healthy growth. We recommend pairing our overseeding service with our core aeration service when the soil is loosened up. This gives the seeds an ideal place to lodge themselves and receive vital nutrients, water, air, and sunlight. Our experienced team uses outstanding Pennsylvania tall fescue seed blends, so you can look forward to having thicker and fuller grass that also boasts exceptional resiliency to stressful conditions.
We apply a starter fertilizer when we overseed your lawn to kickstart its root development.
---
Sod Installation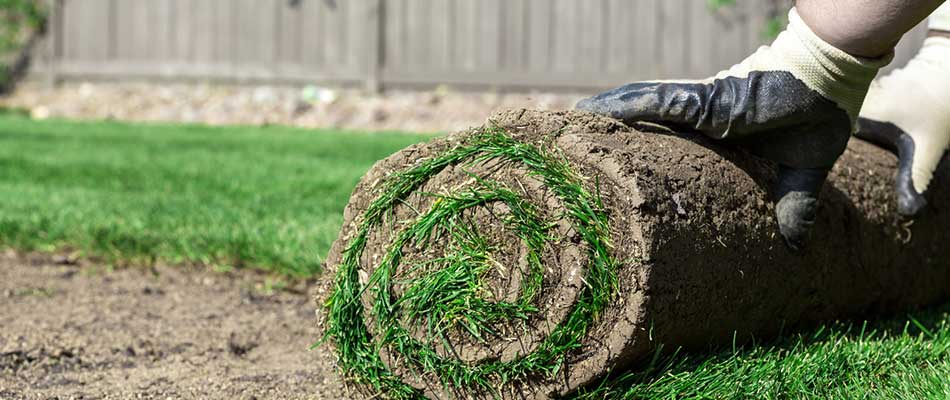 Every property owner wants to have a lush and vibrant lawn, but not everyone has the time to cultivate grass from seed. Our sod installation service will get you an instantly green lawn in no time! Our seasoned professionals at Countywide Landscape will prepare the soil properly before we lay down the sod. This means we will remove weeds and debris before flattening out the ground to ensure your new grass will have an even surface to establish. We recommend giving your new turf enough hydration for the first couple of weeks after we lay down the sod to ensure the roots of the grass can grow deep and strong.
---
New Lawn Seeding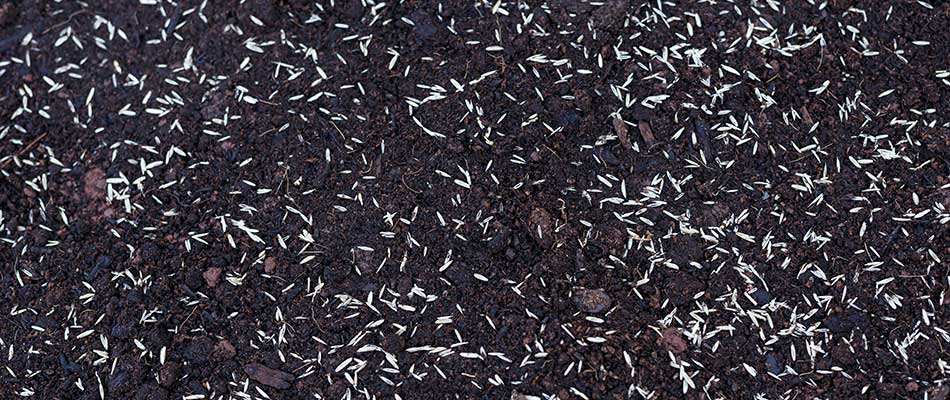 If you want to grow a new lawn from seed, we have you covered as well. Our new lawn seeding service involves thoroughly preparing the soil before spreading cool-season grass seeds. We provide a satisfaction guarantee for our clients, so you can relax knowing we will make sure you receive exceptional service and top-notch results. Before we spread the seeds, our crew will remove every piece of debris on the ground and mark utility lines. After we scatter the seeds, we will then rake and roll over them to ensure good seed-to-soil contact for healthy germination.
---
Hydroseeding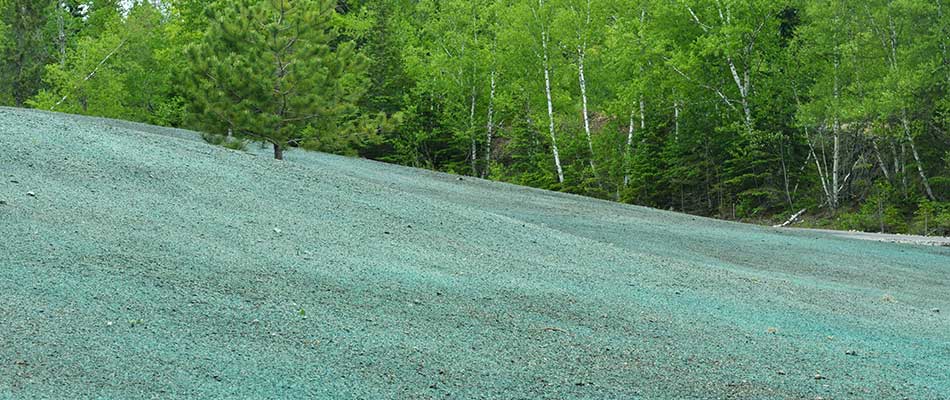 Another way you can have verdant turf is with our hydroseeding service. This service is a convenient way to promote healthy grass growth by combining water with grass seeds, fertilizer, and mulch. We will spray the mixture to your soil, making sure we cover your entire yard. Hydroseeding is slowly picking up fame for its convenience because it combines vital elements like fertilizers, water, and mulch to the process of seeding.
---
Lawn Disease Control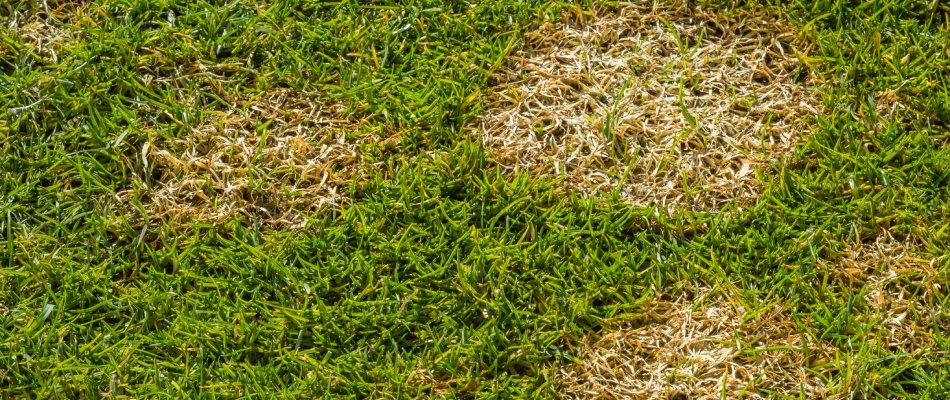 We offer curative treatments to rid your lawn of common lawn diseases that we see here in the West Chester, PA area, including brown patch, powdery mildew, fairy ring, and summer patch. Our team can also assess the damage and offer up a treatment plan to nurse your grass back to health with lawn care services like fertilization and aeration.
---
Leaf Removal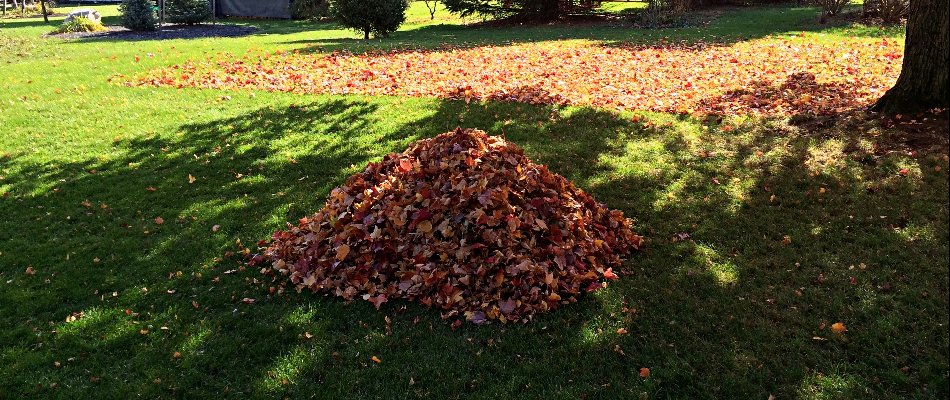 We offer our leaf removal service starting in October and running through the end of December. Our crew can visit your property 2-3 times throughout the fall season to regularly clean up the leaves on your lawn. We'll haul all of the leaves to the edge of your property. Then, we'll use our vacuum truck to clean up the leaf pile and haul away all the debris. Your lawn will be left completely free of leaves by the time we are finished!
---
Spring Yard Cleanups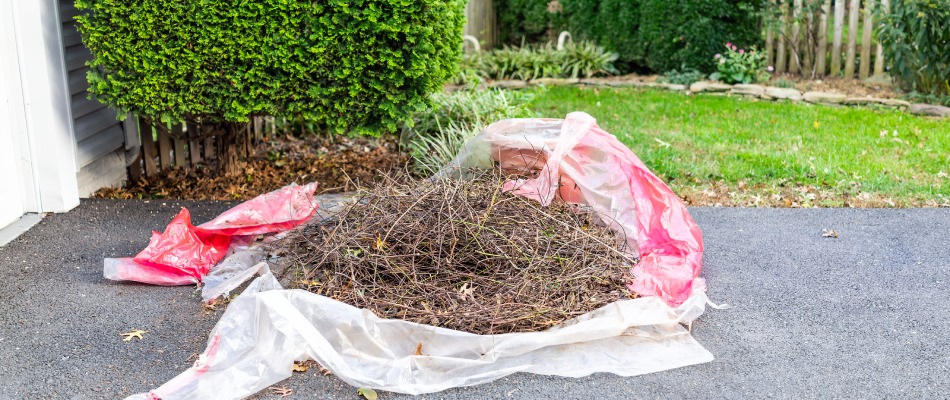 To help revive your lawn and landscape after the winter season, our crew offers spring yard cleanups starting in March. We will clean up any leftover debris such as leaves and edge your landscape beds to make sure your grass is not creeping into your landscape beds. Lastly, we'll apply a pre-emergent weed control treatment to your landscape beds to stop weed growth in its tracks.
---
Fall Yard Cleanups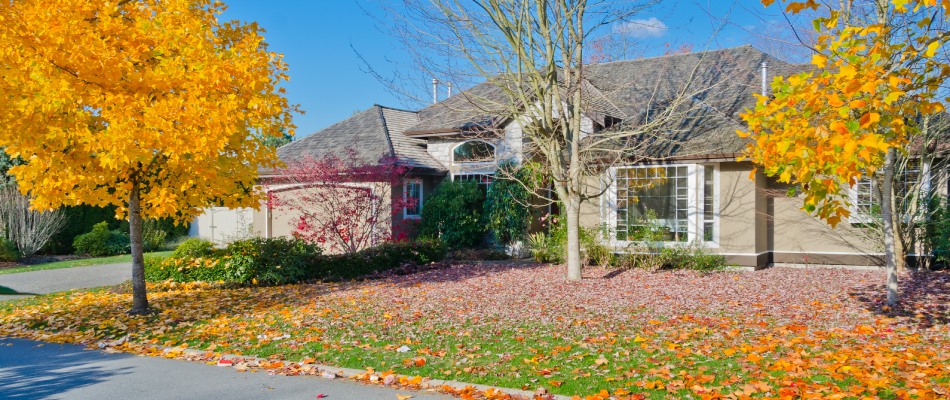 It's important to prepare your lawn for the winter season in order to have stronger grass growth come springtime. We offer our fall yard cleanups starting in October and running through the end of December. We'll remove all of the leaves and other debris like sticks and branches off of your lawn so that your grass doesn't get smothered by their weight.
---
Mosquito Control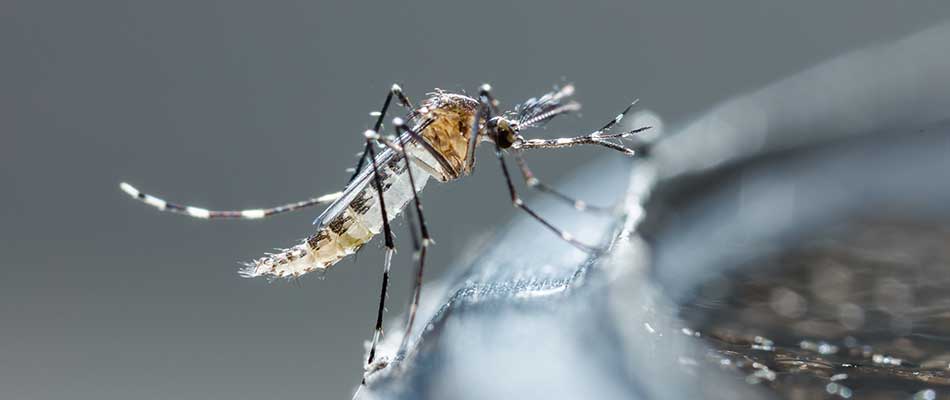 Even when your lawn's lush and dense growth provides the best area for some outdoor fun, your time outside will be hampered when mosquitoes keep buzzing around. Keeping them away from your home is critical because they carry harmful diseases that may affect you and your loved ones. That is why our mosquito control treatments are available to you! We have two types of mosquito solutions:
Organic mosquito control solution
EPA-registered product
Both are effective treatments to keep these buzzing insects away from your property. When we apply them, we use a backpack sprayer so we can cover all areas of your property. We can spray our mosquito solutions every 21 days throughout the mosquito season to protect your property all season long!
---
Flea & Tick Control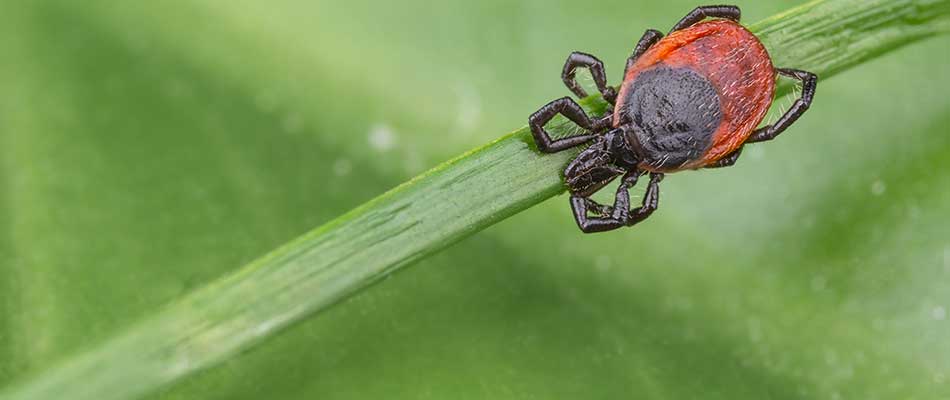 Fleas and ticks are other common lawn enemies you might encounter. Like mosquitoes, these insects are disease vectors that you should avoid. Don't fret because our crew at Countywide Landscape offers flea and tick control services to protect your home from these harmful insects. We use an organic treatment to effectively deter fleas and ticks from getting near your property, so you can rest assured that our solution is 100% safe! When you schedule this service, we will arrive at your property every 4 weeks to spray our organic flea and tick treatments using our backpack fogger. Our team will spray every nook and cranny on your yard to make sure these insects have nowhere to hide.
---
Grub Control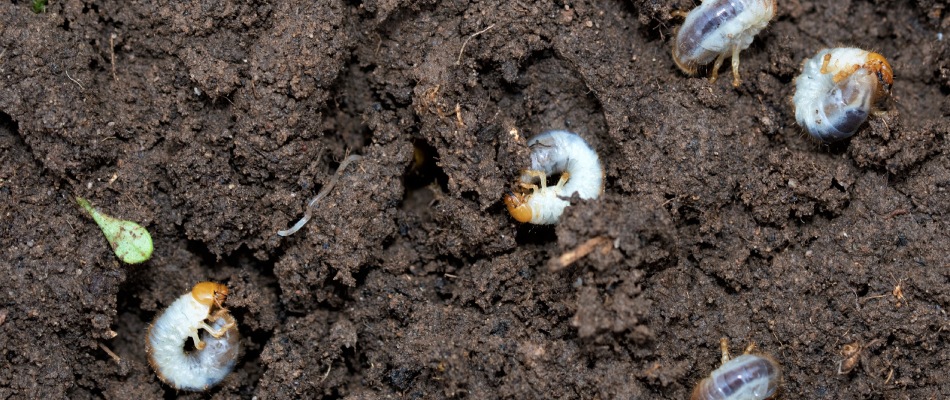 We offer both preventative and curative grub control applications; however, we highly suggest that you invest in preventative treatments instead of relying on curative treatments. Our preventative application will stop grubs before they have a chance to eat the roots of your grass. If you skip a preventative application, you risk grubs harming your grass and then having to pay extra money to reverse the damage with lawn care services.
---
Call us today to schedule our lawn care services!
The key to a healthy and vibrant lawn is to provide it with top-rated lawn care services from professionals like us. At Countywide Landscape, we want nothing more than to help you achieve the green lawn you want that stands out in your community. With over 16 years of experience in the lawn care industry, our experts have more than enough knowledge and skills to keep your lawn at its best. Our lawn care services are available to homes and businesses in West Chester, Downingtown, Exton, PA and nearby communities. Call us today at (610) 285-9727 to schedule one or more of our lawn care services!