Mulch & Rock Installation in West Chester, Downingtown, Exton, PA & Nearby Cities
We install rock and mulch ground covers to enhance your property's aesthetics while keeping weeds at bay.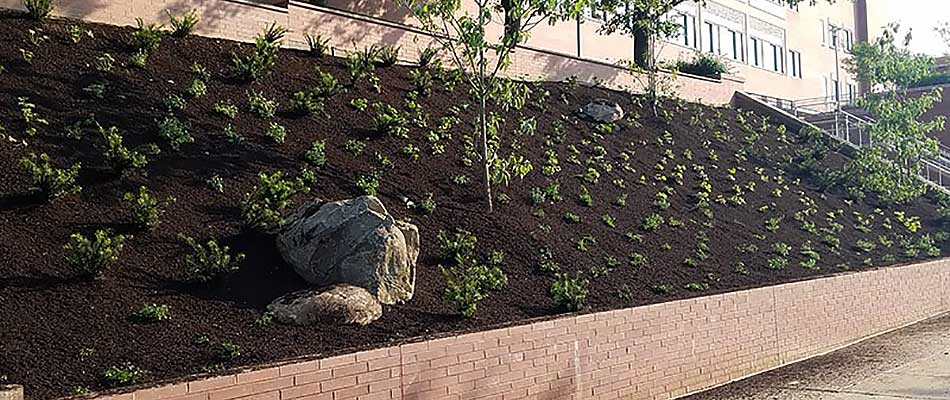 Installing mulch and rock in your landscape beds will undeniably improve your property's curb appeal by giving your landscape a more refined look. Mulch and rock ground coverings also benefit your plants in many ways, including soil erosion prevention, weed growth prevention, and moisture retention.
At Countywide Landscape, we offer mulch and rock installation services to the West Chester, Downingtown, and Exton, PA areas. You can choose from a wide variety of mulch and rock types to match your style and the rest of your landscape. We can help you choose the perfect option for your property and our crew will install it flawlessly!
---
What types of mulch and rocks do we install?
There are so many options when it comes to choosing what to use for your ground covering. We understand that each landscape is different and each homeowner has a different style from the next! Our mulch and rock options cater to these varying styles and we are confident that you will find one that you love.
Here are common mulch materials we use and how each benefits your lawn:
Shredded hardwood - Hardwood bark can be shredded up to three times, which will give you a finer texture that creates a more uniform look.
Dyed mulch - We offer both black and brown dyed hardwood mulch. Dyed mulch makes it easy for our clients to match their mulch with their landscape!
Cedar mulch - This type of mulch has natural oils in it that repel insects!
For rock ground coverings, our clients love river rock. These rocks have been collected, well, from a river! This means that their surfaces are extremely smooth, giving your landscape a pristine appearance. Delaware blue and salmon white rocks are popular choices.
Insulate your soil from freezing temperatures and protect your plants with winter mulching!
---
Is rock or mulch better for your landscape beds?
Both are great options! Both types will help retain moisture in your soil, block sunlight from weed seeds (thus preventing their growth), prevent soil erosion, and require almost no maintenance. However, there are some differences that might convince you to pick one over the other.
Because mulch is made up of organic matter, it will slowly decompose. As this happens, nutrients are released into your soil, giving your plants an extra boost. This also means, though, that mulch will have to be replenished earlier than rocks will. If you choose rocks for your ground covering, you won't receive the extra nutrients in your soil, but you can wait a little longer before replacing them.
No matter which type you choose, you will be making the right decision! Ground coverings of all types are great additions to your landscape beds because they protect your soil and roots from the natural elements. Our experts can help you choose the right type that matches your style and your landscape.
---
Schedule our mulch and rock installation service for your property in PA!
Since 2006, we have been installing mulch and rocks for properties in and around the West Chester, Downingtown, and Exton, PA areas. Our top-tier customer service makes us the best team for the job. Refresh your landscape beds with our mulch or rock installation service today! Give us a call today at (610) 285-9727 to schedule.