Mulch is a protective layer of different organic or inorganic materials like wood pieces and barks that goes on top of landscape beds. Mulch does wonders to your landscape beds as it helps to instantly improve their aesthetics. Additionally, mulch also provides numerous other benefits including moisture retention, helping to reduce soil erosion, preventing weed growth, and providing insulation for the plants in your landscape beds. Continue reading to learn more about mulch and what it can do for your landscape beds in Pennsylvania.
---
What is mulch, and when should it be applied?
Mulch is a mixture of various materials spread on the soil's surface as ground cover. Some of the materials used to create mulch include wood chips and bark. It essentially helps retain moisture in the soil, keep weeds away, and protect your soil from harsh temperatures.
Mulch can be applied at any time. The springtime is perfect for installing mulch as it will help to prevent weeds from sprouting up in your landscape beds. In the winter, mulch is beneficial as it will provide your landscape plants with protection from cold temperatures.
Mulch breaks down over time, and you need to replenish it every year to ensure you are getting all of the benefits from it.
---
Installing mulch helps improve the aesthetics of your landscape beds.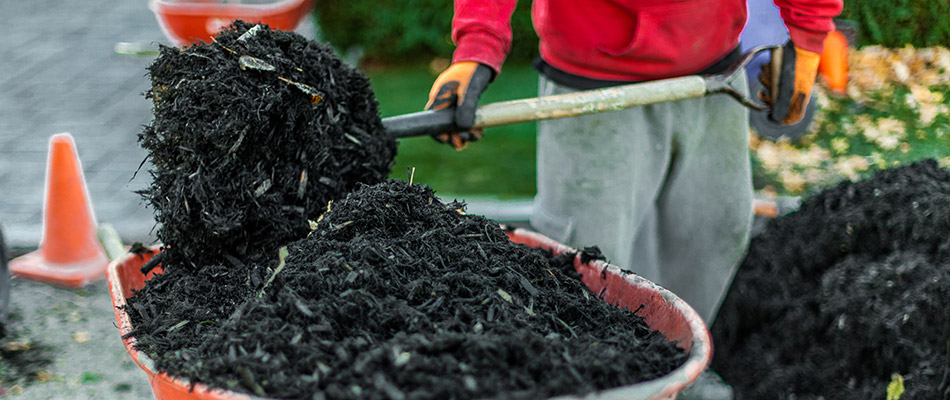 There are various material options available when installing mulch in your landscape beds. Property owners love the refined look that mulch creates for their landscapes as it gives their yard a nice finishing touch. That's because mulch covers the bare soil and turns it into a clean-looking point in your landscape. When done right, mulch can create a cohesive appearance in your property and improve its overall aesthetics.
Mulch comes in different colors like black and brown. This deep color provides an exceptional contrast for your vibrant and colorful plants and flowers, which helps make your softscapes stand out.
---
Mulch provides a variety of benefits to your landscape beds.
Aside from improving your landscape beds' aesthetics, the health of your plants also greatly benefit from mulch. Because it breaks down eventually, it releases essential nutrients back to the soil, which aids in healthy plant growth. Additionally, mulch also:
Prevents soil erosion: The bare soil on your landscape beds can quickly erode, but applying mulch will slow down the process and prevent your landscape beds from getting washed away during heavy rains.
Prevents weed growth: Mulch covers the ground and leaves no space for weed growth. It also deprives weed seeds of sunlight which is crucial for their germination.
Retains soil moisture: Mulch ensures there is enough moisture in the ground to prevent plant roots from drying out. It reduces water evaporation and ensures the soil can absorb as much water as needed.
Insulates roots: Mulch serves as a protective barrier for the roots of your plants against harsh temperatures, which means your plants will have a stable environment throughout the growing season.
---
Give us a call today to schedule our mulch installation service.
Mulch is hands down a big part of keeping the plants in your landscape beds in good condition while contributing to improving the appearance of your property. At Countywide Landscape, we provide our mulch installation service to residential, commercial, and HOA properties in West Chester, Downingtown, Exton, and throughout the surrounding areas of Pennsylvania. With 16 years of experience, our skilled crew has mastered what it takes to provide our clients with high-quality services. Call us today at (610) 285-9727 to schedule our mulch installation service today. We look forward to helping you improve the aesthetic of your landscape beds the health of your landscape plants.