Investing in a fire feature such as a fire pit or fireplace for your outdoor living space is a great way to enhance the aesthetic and enjoyment you get from that area. This is especially true if you live in the West Chester, Pennsylvania area, where a fire can help you enjoy the fall and spring weather when the temperatures are still a little chilly. There are many decisions that go into the process of planning and designing a fire feature. That is why we have put together a list of some things for you to consider to make the process as easy as possible for you.
Below, we'll go over 4 steps to consider when planning and designing your new fire feature, including picking your placement, choosing your material, picking between wood-burning and gas-burning options, and choosing the right company to complete the installation.
---
1. Pick the Right Spot for Your Fire Feature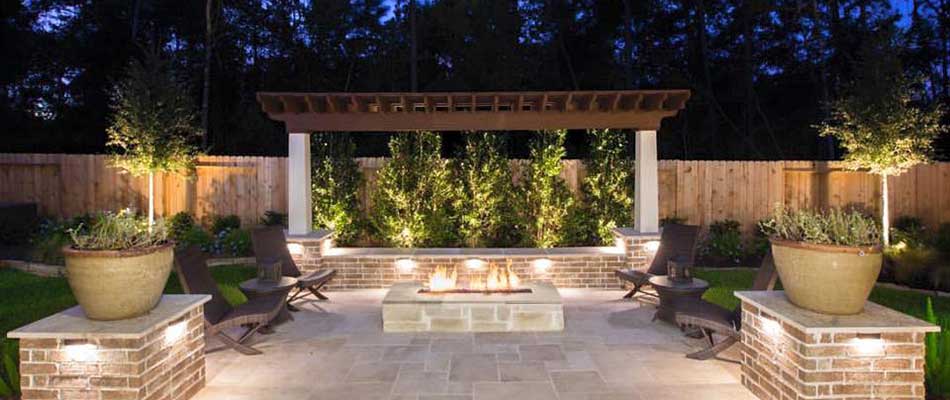 Location, location, location. That phrase doesn't just apply to real estate, it's also a major thing to consider when it comes to fire features. You'll want to pick a spot that can not only accommodate the fire feature itself but also will have enough room for seating around it.
Outdoor fireplaces take up a lot more space than a fire pit does, so if this is the route that you want to go, you'll need to make sure that your outdoor area is large enough. Also, fireplaces can provide privacy from your neighbors and act as a wind blocker, so you'll want to pick a spot where these benefits can be put to use.
Fire pits don't take up as much room, so you'll have more options on where you can place one. A good idea is to place it in a location in your yard that has plenty of space around it, that way you can have enough room to surround it with chairs.
---
2. Choose Between a Variety of Material Options
Fire pits and fireplaces are available in a wide range of material options, so selecting which one is right for you is all about personal preference. You'll want to select a material that will fit in perfectly with the rest of your outdoor living area. Some of the most popular material options include:
Custom Stonework - Custom stonework is essentially natural stone that can be shaped and sized to whatever dimensions you need. These stones are usually put together with mortar to create a stunning fire feature that will undoubtedly be the focal point of your outdoor space.
Concrete - This material is ideal for fire pits as it can easily be shaped into rectangular or circular shapes to create a fire pit of your desired size.
Stacked Stone - As the name implies, stacked stone is when stone material is stacked on top of one another to create a classic and beautiful look. This material works well for both fire pits and fireplaces.
---
3. Do You Want a Wood-Burning or Gas-Burning Fire Feature?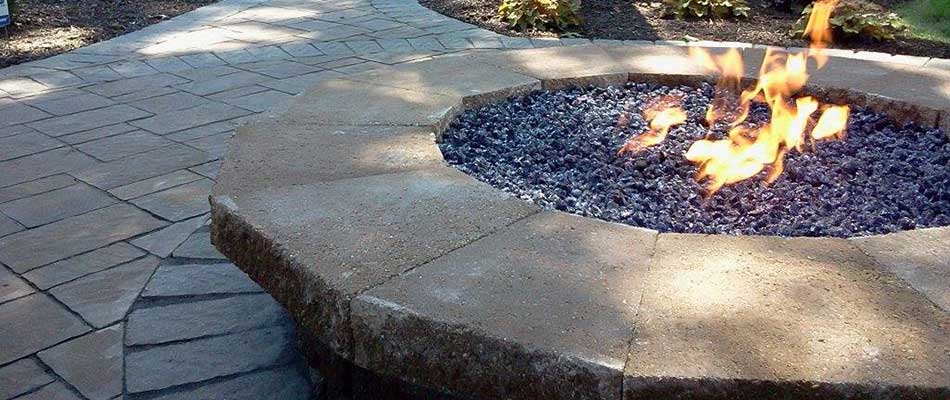 The two main sources of fuel for fire features are wood and gas. Both of these options are popular, so it really comes down to personal preference. Wood-burning fire features are great if you want to experience a traditional fire complete with a smoky smell and the crackle of wood. However, there is also a lot more work associated with wood-burning fire features such as the collecting of wood and the need to continually feed the fire.
Gas-burning fire features take a lot more time to install than a wood-burning one since a gas line has to run underneath the ground. However, these fire features can be turned on and off with the touch of a button, and you won't have to worry about getting that smoky smell all over your clothes. If convenience is important for you, this may be the way to go.
---
4. Choosing the Right Company Makes All the Difference
No matter what type of fire feature you decide to go with, choosing the right company to work with makes all the difference. You'll want to take the time to do some research to ensure you select a reputable company that can handle the job. Before selecting a company to partner with, ensure that they have:
Great reviews from previous customers
Portfolios of their past work
All the necessary certifications
A team of experienced and knowledgeable installers
Search for a company that offers a satisfaction guarantee. This will give you peace of mind that they won't be happy with the job until you are.
---
Call us today to install a beautiful new fire feature in your outdoor living area.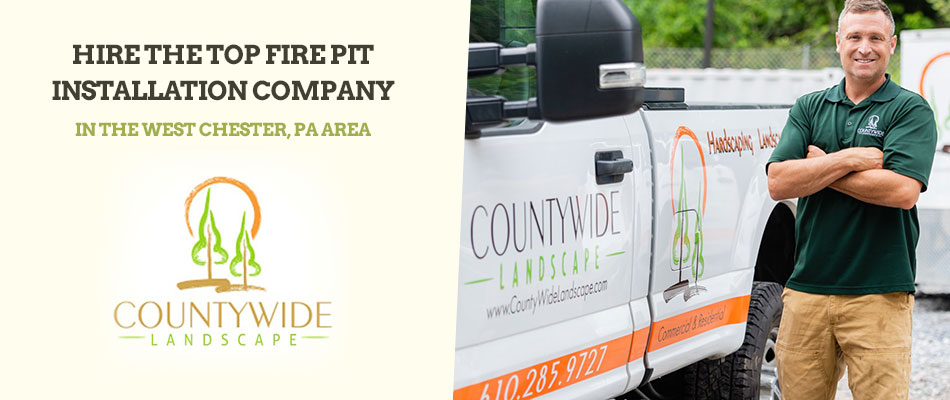 If you're ready to enhance your outdoor living area by having a new fireplace or fire pit installed, there's no better company to turn to than Countywide Landscape. We've been helping property owners in West Chester, Downingtown, Exton, PA and throughout the surrounding areas find the perfect fire features for their properties since 2006. Give us a call today at (610) 285-9727 to get started.