Outdoor entertaining conjures up the familiar image of a barbecue lunch out in the backyard with the smell of burgers and hotdogs coupled with a grill, beer cooler, paper plates, and plastic utensils. Step up your entertaining game with an elaborate outdoor kitchen design that includes four essential elements to recreate an indoor kitchen, such as wine/beverage coolers, pizza ovens, bars with seating, and ceiling fans.
At Countywide Landscape, we design custom outdoor kitchens and install the correct elements to ensure a fun and rewarding cooking experience for your friends and family. Not only will you get flexible cooking and entertainment options, but the added features can also boost your property's overall value.
---
1. Wine/Beverage Cooler When You Need a Cold Drink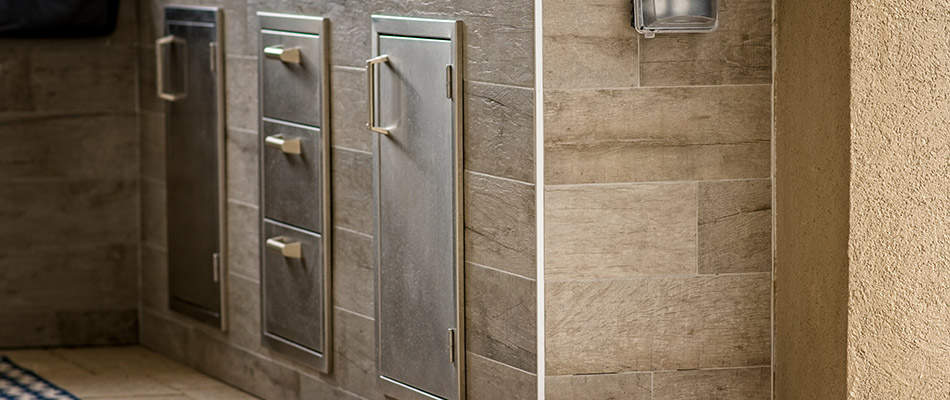 Wine and beverage coolers create a fun bartending space in your outdoor kitchen, where you have ice and drinks on hand at all times. With a wine or beverage cooler, you don't have to leave your seat to grab a cold drink or fetch a refill. A wine and beverage cooler serves as your outdoor "fridge," allowing you to remain in your backyard rather than running to your indoor kitchen.
Wine or beverage coolers can be large or small, portable or fixed, rely on electricity, or as simple as a bucket of ice. You can install them into your outdoor kitchen design or let them be a standalone feature. There is a variety of creatively crafted wine and beverage coolers, including small-to-large-sized insulated box-shaped containers where you can store ice and drinks at the location of your choice. Some coolers have wheels and pull-out handles to make transportation easy and convenient, proving a versatile option for keeping beverages cool outside, whatever the occasion.
Use stainless steel material to make sure your cooler or fridge can withstand various weather elements without affecting its life and performance.
---
2. Pizza Oven for Fun Nights with Friends
An outdoor pizza oven is a specialized oven that has become a mainstay in modern households. Cooking on an outdoor pizza oven allows you to entertain friends and family easily while enjoying the best pizza possible.
Outdoor pizza ovens can cook at very high temperatures (so you'll have that piping hot, crispy pizza in just a few minutes!). They come in various sizes; you may choose the type and size of the oven that best fits your outdoor kitchen space and needs. They may come as brick or stone ovens using wood pellets to heat the oven. You can also use stainless steel pizza ovens fueled by gas or propane.
You can choose to install your outdoor pizza oven as part of your outdoor kitchen or as a standalone, portable appliance. Outdoor pizza ovens are easy to manage and energy-efficient – reasons why more people are discovering and rediscovering the joys of outdoor cooking for fun and intimate gatherings.
---
3. Bar Sets Let You Hang with Guests While You Cook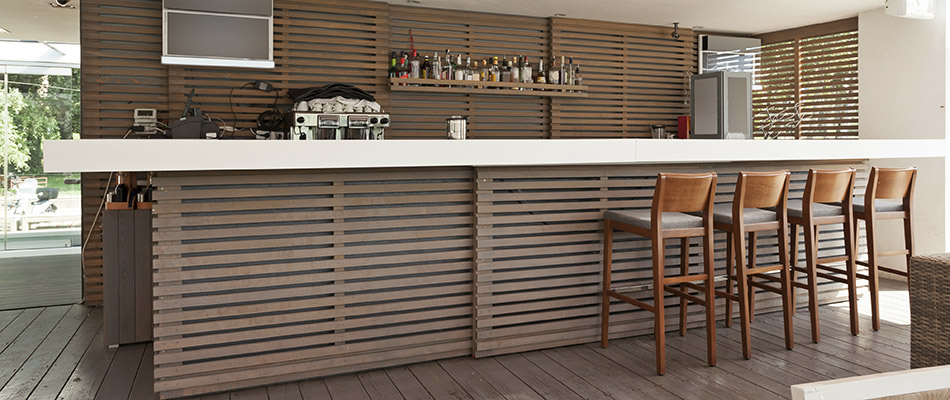 An outdoor bar set makes it easy to entertain and unwind outdoors. Your outdoor bar makes a great place not only to serve drinks and eat food but to chill and chat with your guests as you cook. Many of the bar sets can be standalone features or part of your outdoor kitchen.
An outdoor bar is equipped with a space to store glasses, bottles, and ice so that you can fill your drinks up and don't have to worry about running inside to get more every time you need a refill.
---
4. Ceiling Fan for Air Movement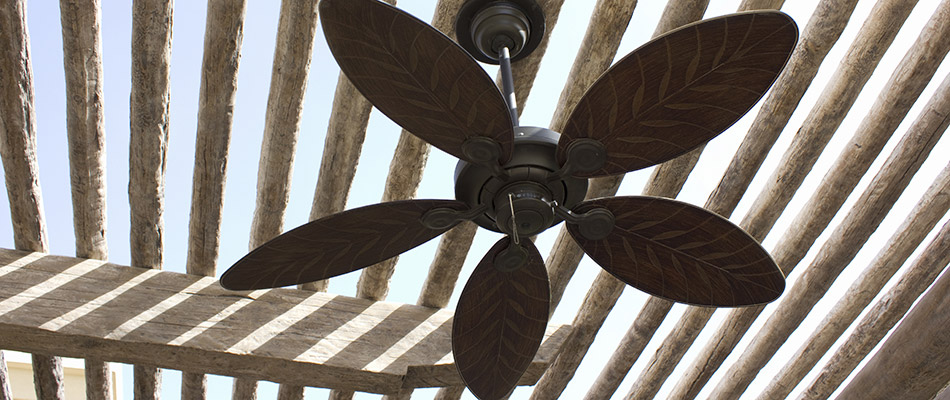 Ceiling fans are no longer just for indoors. Outdoor ceiling fans have a unique design to withstand any weather, particularly in damp or wet areas. When the weather is uncomfortably warm, your outdoor ceiling fan will provide you with the cooling breeze you need in your outdoor cooking space.
Outdoor ceiling fans come in various styles and designs, so you can quickly transform the look and feel of your outdoor kitchen. They also come with handheld remote controls or Energy-Star-certified LED lights.
Good-performing outdoor ceiling fans have:
Stainless steel screws and high-grade wires
Weather-resistant finish or coating around the motor
Fiberglass or ABS plastic ceiling fan blades
With these things in mind, you'll have an excellent outdoor ceiling fan that can last for years to come, keeping your outdoor kitchen cool, especially during warmer months.
---
Upgrade Your Outdoor Kitchen Space with These Custom Elements. Call Us Today!
At Countywide Landscape, our outdoor kitchen installations can include the above custom elements for all your entertainment and cooking needs. Our company expertly builds and designs outdoor kitchens for residential and commercial properties in West Chester, Downingtown, Exton, and nearby cities in Pennsylvania. We also provide 3D renderings using a software program, so you can check out what the finished project will look like before the installation. Call us at (610) 285-9727 to schedule a free estimate.