As the weather warms up here in Pennsylvania, and you find yourself outside more with your family or friends, you may want to consider investing in LED lighting to brighten your landscape. There are three main reasons you should invest in LED lighting for your landscape. LED lights will save you energy while outputting the same amount of light as other bulbs, which is better for the environment. They last longer than other types of light bulbs on the market, meaning you won't have to change them as much. And lastly, they don't produce as much heat as other lights like incandescent bulbs, making them far easier to handle. All these reasons make LED light bulbs ideal for your outdoor lighting needs.
---
1. LED bulbs save more energy than other bulbs.
You should consider installing LED lighting for your landscape as they are far more energy-efficient when compared to other bulbs like incandescent lights. This is because LED bulbs are considered directional light sources, meaning they emit light in a specific direction. Incandescent lights and compact fluorescent lights (CFL for short) both emit light and heat in all directions, making LED lights able to utilize their energy far more efficiently when used in specific fixtures. LED light bulbs use far less wattage to achieve the same level of brightness as other competing light bulbs. For example, a 15-watt LED bulb is equivalent to a 100-watt incandescent bulb today, making them the ideal choice to help save you money and to protect the environment by reducing your carbon footprint.
---
2. LED bulbs last longer than other bulbs.
Another reason to choose LED bulbs over incandescent and CFL bulbs for your landscape lighting is because of their long life span. You'll find that you won't have to change your LED lighting out as much compared to other types of lights. When comparing the lifespan of LED lights against others types of light bulbs, LEDs are the clear winners as they can last anywhere between 25,000-35,000 hours. When looking at other types of bulbs, a standard CFL bulb will last between 10,000 to 15,000 hours while an incandescent light bulb will last approximately 1,500 hours. This makes LED bulbs last between 2 to 4 times longer than CFLs and from 25 to 35 times longer than incandescent lights.
---
3. LED bulbs do not generate as much heat as other bulbs.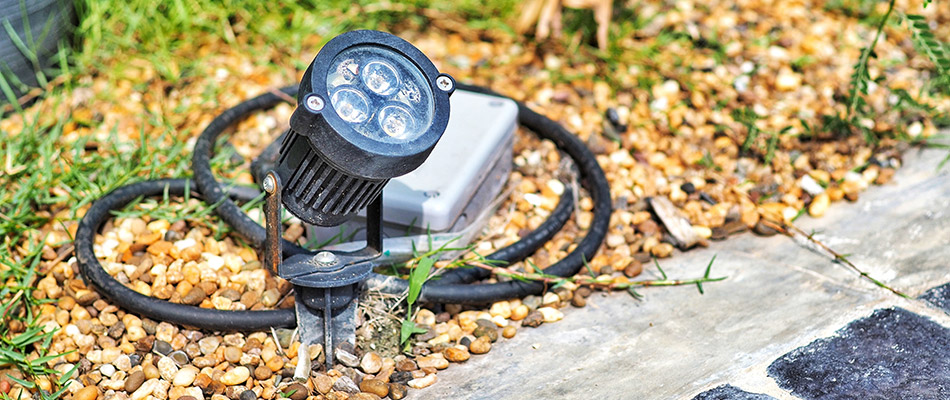 Another reason to choose LED lighting for your landscape is that they don't generate as much heat as traditional incandescent bulbs, making LED lights a much safer option than incandescent and CFL bulbs. Most of the energy generated from incandescent bulbs is heat instead of light, which is one of the main reasons they are less energy efficient when compared to LED light bulbs. CFLs, while they last longer than incandescent bulbs, generate far more heat, meaning they could even potentially pose fire hazards. Naturally, LED lights produce heat as well, however, they use built-in heat sinks to absorb most of the heat they produce, preventing them from overheating and burning out.
LED lights will degrade at a much slower rate than traditional incandescent lights due to their ability to effectively manage heat.
---
We use high-quality LED bulbs when installing landscape lighting. Give us a call today to schedule our landscape lighting service.
LED lights are the best choice for landscape lighting. At Countywide Landscape, our team of landscape lighting experts will install low-voltage LED light bulbs to keep your property well-lit while helping you save energy. We service commercial, HOA, and residential properties in West Chester, PA, and the surrounding areas like Downingtown and Exton. Call us today at (610) 285-9727 to schedule our landscape lighting service.